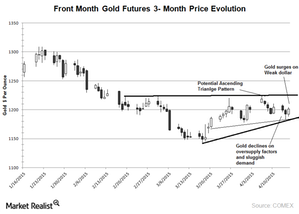 Gold Prices: Driven by Delayed Interest Rate Hike and Weak Dollar
Gold price action
Below is our gold price and fundamental analysis. For an in-depth fundamental look at crude oil and related companies, sectors, and drivers, please refer to our Gold ETF page.
April gold futures were up marginally by 0.73% and settled at $1,201 per ounce on April 15, 2015. COMEX-traded gold rebounded on the consensus of the delayed interest rate hike by the Federal Reserve and a depreciating dollar. The iShares Gold Trust (IAU), an ETF that follows gold's performance, was up marginally by 0.87%. The VanEck Vectors Gold Miners ETF (GDX) also rallied by 2.94% in yesterday's trade.
Gold miners like Yamana Gold (AUY), AngloGold Ashanti (AU), and Gold Corp. (GG) were also up by 4% at the close of trade. These stocks account for 16% of GDX.
Article continues below advertisement
US dollar tumbles
Gold prices recovered as the US Dollar Index depreciated by 0.80% over the last five trading sessions. The index measures the performance of the US dollar with respect to six major currencies. These currencies are the euro, yen, pound, Canadian dollar, Swedish krona, and Swiss franc. The weak dollar makes dollar-denominated gold cheaper. As a result, gold prices surge.
The US dollar tumbled because of weak industrial output data released by the Federal Reserve on April 15, 2015. The data showed that industrial output fell by 0.6% in March 2015—better than the market estimate of a 0.5% decline. In February 2015 industrial output rose by 0.1%. The falling energy prices saw mining and utilities activities drop in March 2015. In contrast, manufacturing output increased in March 2015.
Gold futures' prices rose for the fifth time in the last ten days. The average up days' prices increased 0.31% more than the down days' average over the same period. Gold and silver had an average performance in yesterday's trade. WTI (West Texas Intermediate) crude oil topped the charts for the second day across all of the commodities.
Gold prices gained 1.71% YTD (year-to-date)—despite the US Dollar Index increasing by almost 9% YTD. Prices are in a long-term downtrend due to sluggish demand and the improving US economy.