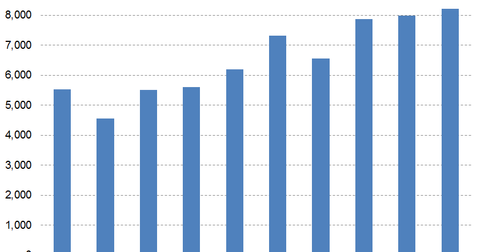 Free Cash Generating Businesses Are Best
By Saul Perez

Apr. 3 2015, Updated 2:06 p.m. ET
Free cash generation makes the best business
Investor Warren Buffett believes that the primary objective of any good business should be to generate lots of free cash. This free cash, along with a reasonable amount of debt, if required, can then be used to fund the expansion of the business. Expansion leads to more free cash being generated. This should be the virtuous cycle a business aims for.
Article continues below advertisement
Berkshire was once a cash guzzler
Buffett abhors any business that constantly needs fresh capital to grow. Such businesses are just cash guzzlers in his opinion. Berkshire Hathaway (BRK-B) was a cash guzzler before Buffett took over its management. Berkshire was a textile company that constantly required capital infusion. Buffett sold the textile business and turned it into an investment and insurance company.
Once a business gets into this virtuous cycle, it's able to maintain strong earnings performance for a long time. But getting there is difficult. Few companies are able to do it. Most of the companies in Buffett's portfolio maintain this virtuous cycle.
Most of Buffett's holdings are virtuous
Coca-Cola (KO) generates enough cash to fund its expansion. It has always maintained a manageable debt-to-equity ratio. Another example of a company with this virtuous cycle is IBM (IBM). It has a comfortable debt position and a high debt servicing capacity. This high debt servicing capacity is indicated by a stellar interest coverage ratio. This focus on cash is one of the major reasons that Berkshire's returns have beaten indices and ETFs such as the iShares Core S&P 500 ETF (IVV) and the iShares Russell 2000 ETF (IWM).