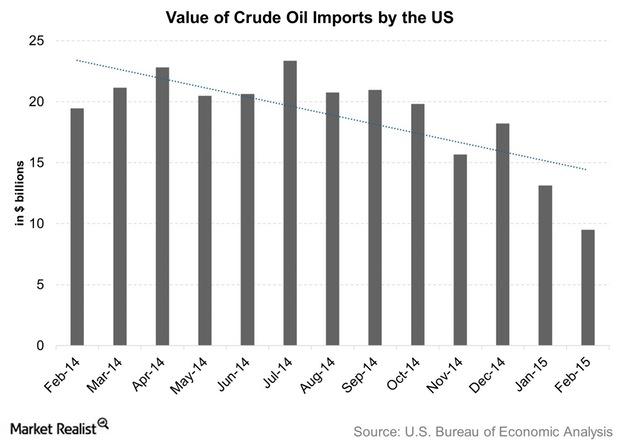 Falling Crude Oil Imports Result in a Fall in US Imports
By David Ashworth

Apr. 9 2015, Updated 1:06 p.m. ET
Energy-related imports continue to fall
According to the quantity imported, energy-related petroleum products' imports fell 5.2% in February from a month ago. They were down 14.4% from the level last year. In terms of value, imports were down 47.3% from a month ago. They were down 25% from February 2014.
Crude oil imports were the major contributors to the fall in energy-related products' imports. The US imported 9.6% less crude oil barrels in February than it did in January. The imported quantity was down 13.8% from a year ago. Meanwhile, due to the fall in crude oil prices, the value of crude oil imports fell 51.1% from January. It was down 27.6% from a year ago.
Article continues below advertisement
Although crude oil prices rebounded in February, the prices were still low. This suppressed stocks like ExxonMobil (XOM), Chevron (CVX), Schlumberger (SLB), and Kinder Morgan (KMI). As of March 31, these stocks are down 8.1%, 6.4%, 2.3%, and 0.6%, respectively. These stocks dragged the Energy Select Sector SPDR ETF (XLE). They account for ~40% of XLE. XLE is down 2% YTD (year-to-date).
The fall in the value of crude oil imports was due to domestic production of fracking and shale oil. This helped reduce the dependence on foreign oil imports. This year, the decline in oil prices—even after the February rebound—also helped control the oil bill.
Regional surpluses and deficits
On a Census basis, the US had a goods deficit of $27.3 billion with China in February 2015. It was down $2 billion from January 2015. This was primarily because of a fall in imports. They fell by $3.5 billion from a month ago to $36.3 billion in February.
The trade deficit with Japan fell $2.2 billion to $4.3 billion. This was because exports received a slight bump while imports tanked. While exports to Japan increased by $96 million, imports from Japan plunged by $2.1 billion.
In the next part of this series, we'll explore a report that provides important insights into the health of US manufacturing.