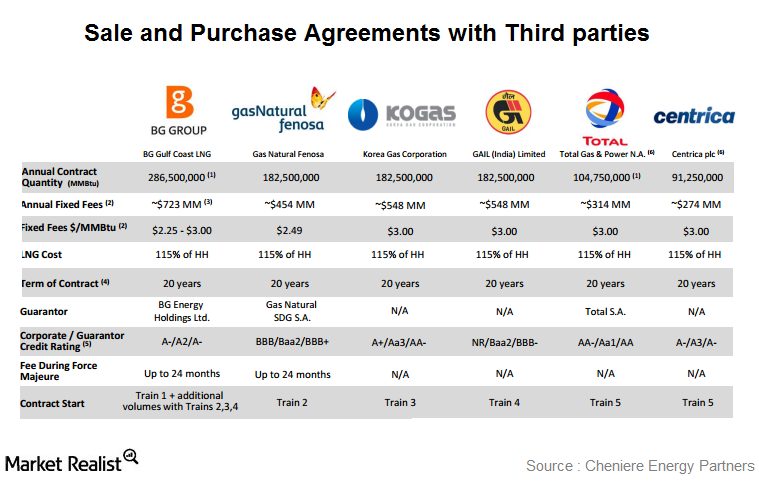 Points for Investors before Cheniere Energy Partners' 1Q15 Earnings
Oil and gas production will increase in 2015, keeping prices low
In its March 2015 presentation, Cheniere Energy Partners (CQP) noted that the US responded to price signals faster than the rest of the world. It shed ~475 rigs in the past three months—compared to ~66 rigs in the rest of the world.
Falling rigs curtailed production, especially for oil. To learn more, read Latest Crude Inventory Reveals Bullish Development. This is bullish for oil and gas prices. They're linked to LNG (liquefied natural gas) prices. However, the EIA (U.S. Energy Information Administration) forecasts that both oil and gas production will increase in 2015—compared to 2014. This will keep long-term oil and gas prices in check.
Article continues below advertisement
Why it doesn't matter to Cheniere Energy Partners
In the March presentation, the company also revealed that it entered into a long-term 20-year "take-or-pay" contract for ~83% of its total nominal capacity.
These contracts guarantee ~$253 million fixed revenue on an annual basis for two decades at its Sabine Pass LNG facility. Major customers include Total (TOT) and Chevron (CVX). Chevron is part of the iShares Global Energy ETF (IXC). It accounts for ~8% of IXC.
The company also signed SPAs (Sale and Purchase Agreement) at Sabine Pass Liquefaction. This guarantees fixed revenue of ~$2.9 billion.
So, the company seems to be on firm standing for future growth.
Cheniere Energy Partners is a publicly traded MLP (master limited partnership). It was created by Cheniere Energy (LNG). Cheniere Energy owns 100% of Cheniere Energy Partners' general partner—Cheniere Energy Partners GP, LLC.
To learn more about Cheniere Energy's ownership structure, read Everything you need to know about Cheniere Energy.
Other factors
Low natural gas prices, pending approvals by the DOE (U.S. Department of Energy) for non-FTA (free trade agreement) authorization on Train 5 and 6 and the risk involved in building facilities' delays—for example, the recent "walk off" by 1,000 employees in the Sabine Pass Facility due to wage disputes—will influence stock prices along with the company's upcoming 1Q15 earnings.