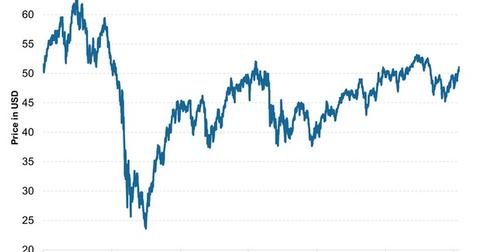 Factors and Forces Affecting the Global Macroeconomy
By David Ashworth

Updated
Two major forces
Olivier Blanchard, the economic counsellor for the IMF (International Monetary Fund), believes there are two major factors and two dominating forces that are shaping the global macroeconomy. In a foreword to the April 2015 edition of the "World Economic Outlook," he points to the two forces that will have a macroeconomic influence in the medium term:
crises legacies
fall in potential output growth
Let's look at these in detail.
Article continues below advertisement
Crises legacies
In writing about crises, Blanchard is referring to the financial crisis that caused the Great Recession and the crisis in the Eurozone.
The global financial crisis, which brought about the Great Recession, left indelible marks on the global economy. Countries around the world had to undertake unprecedented measures to stop a catastrophe like The Great Depression of the 1930s had caused.
The US had to undertake what's known as quantitative easing three times to try to resuscitate its economy. The Eurozone, which was also hurt by trouble in PIIGS (Portugal, Ireland, Italy, Greece and Spain), continues to feel the effects of the global financial crisis as well.
You can see the impact it had in the movement of the Vanguard FTSE All-World ex US Index Fund (VEU) in the graph above. The ETF, which was launched in March 2007, reached a high of $63.49, but it still hasn't been able to return to that level.
The iShares MSCI ACWI Index Fund (ACWI) has over half of its assets in US stocks, and counts Apple (AAPL), ExxonMobil (XOM), and Microsoft (MSFT) as its top three holdings. Together, these companies make up a shade less than ~4% of its portfolio. It's had a CAGR (compound annual growth rate) of just ~3% for the past seven years.
Fall in potential output
Potential output growth refers to the rate of growth in GDP (gross domestic product) at a stable inflation rate.
In advanced economies, potential growth had fallen even before the financial crisis hit. This was primarily because of a drop in productivity and an aging population.
Developing economies have seen a bigger hit in potential growth during and after the recession. Low capital addition, an aging population, and low productivity are all factors in this.
In the next article, we'll take a look at the two factors that are affecting global growth.