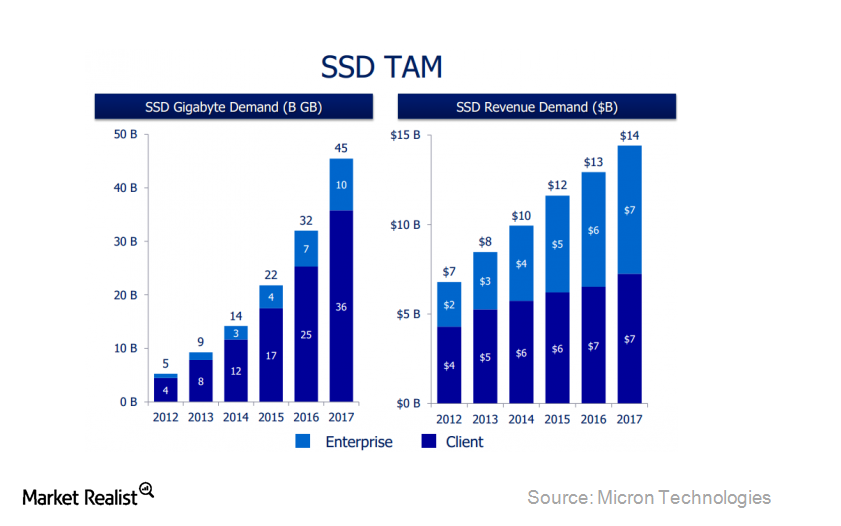 Factors that Forced SanDisk to Lower Its 1Q15 Guidance
The negative impact on SanDisk's 1Q15 performance
As we saw in the previous part of this series, SanDisk Corporation (SNDK) lowered its revenue guidance for the last two consecutive quarters. In 1Q15, the company reported revenues of $1.33 billion, which was in line with its expectation for the quarter.
In the company's earnings release, SanDisk's president and CEO (chief executive officer) Sanjay Mehrotra cited the following factors that were responsible for the company's recent dismal performance:
Article continues below advertisement
In-product issues that impacted the company's performance involved qualification delays that affected embedded and enterprise segment sales.
A shift of PCIe total addressable market (or TAM) toward lower cost offerings affected the company's performance. A shift in demand to enterprise SATA SSDs (solid-state drives) from PCIe (Peripheral Component Interconnect Express) put SanDisk in a critical situation since the company has a weak presence in this market compared to PCIe. The company said it intends to launch a new Fusion-io–based PCIe offering in late April 2015. It expects these solutions to contribute to overall revenues by late 2015 after the completion of customer qualifications.
Pricing issues also affected the company's performance. SanDisk said a softer-than-expected pricing scenario in global retail sales and client SSDs impacted its growth. Management also shared its opinion about industry oversupply in the first half of 2015. To read about the cyclical nature of NAND Flash memory, please read Why are some investors wary of SanDisk?
Supply challenges were also a factor. SanDisk's inability to meet timely delivery of a leading hyperscale customer in enterprise SATA space led the company to lose a significant chunk of business from this customer. SanDisk management said the company is aiming at "a higher mix of 1Y technology relative to 15-nanometer in the second half 2015 to support the mix of our business requirements."
To gain diversified exposure to SanDisk, you can invest in the iShares U.S. Technology ETF (IYW) and the PowerShares QQQ (QQQ). IYW and QQQ invest about 0.40% and 0.28% of their holdings in SanDisk, respectively. The above chart shows the gigabyte and revenue demand expected in enterprise and client SSDs in the coming years.
Article continues below advertisement
Samsung leads the NAND Flash space
Increased contribution of enterprise solutions in overall revenues
In 1Q15, enterprise solutions revenue contribution increased to 14% of overall revenue compared to 6% in 1Q14. SanDisk considers this segment a major growth provider.