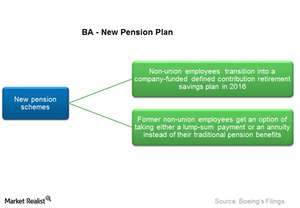 What to Expect from Boeing's New Pension Plan
By Ally Schmidt

Updated
New retirement plan for nonunion employees
In 2014, Boeing (BA) announced that all nonunion employees participating in the company's current defined benefit pension plans would transition into a company-funded defined contribution retirement savings plan in 2016.
Under this new pension plan, all benefits earned before January 1, 2016, will be preserved. Boeing would pay the Special Company Retirement Contributions component of the 401(k) and matching funds according to the employees' 401(k) savings plans. It would also continue to pay the Social Security taxes every year.
Article continues below advertisement
Plus, employees would receive a three-year transition benefit in their 401(k) accounts equivalent to 9% of their eligible incomes in 2016, 8% in 2017, and 7% in 2018. They would also gain access to free, personal retirement counseling services for up to two years, as well as a variety of seminars and online retirement planning modeling tools to help employees reach their retirement goals.
Pension-buyout offer
Boeing also offered a large number of its former nonunion employees the option of taking either a lump-sum payment or an annuity. These options would replace their traditional pension benefits, with monthly payments beginning when they retire. The employees were to tell Boeing whether they want a lump-sum check or a monthly annuity payment that begins the same month.
The prime rationale behind this deal is that traditional defined benefit pension plans generally turn out to be enormously expensive for employers. The traditional plans guarantee employees with pension funds for many years, which generally amounts to higher cash expenses for the company than the lump-sum amount given. Many companies now prefer to provide lump-sum retirement benefits, which transfers the risks and responsibilities of retirement security onto the employees.
Because of this cost dynamic, Boeing is shifting to newer pension plans that would help to provide an attractive retirement benefit for its employees while reducing its pension liabilities in the future.
Boeing (BA) forms 3.64% of the iShares US Industrials ETF (IYJ). Other companies included in IYJ are United Parcel Service (UPS), forming 2.57% of the fund; Accenture (ACN), with 2.05%; and Danaher (DHR), with 1.93% of the fund.