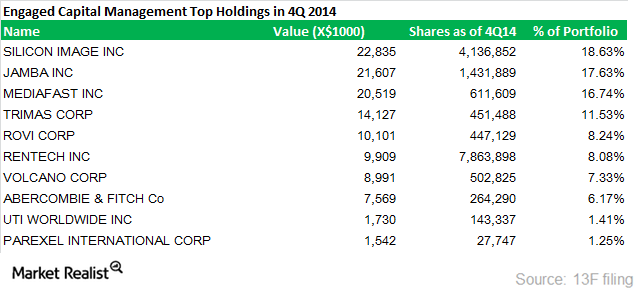 Engaged Capital Raises Stake in Rovi Corporation
By Santiago Solari

Apr. 6 2015, Updated 11:31 a.m. ET
About Engaged Capital
Founded by Glenn Welling, Engaged Capital is an activist hedge fund that invests in undervalued mid- and small-cap companies based in North America. The fund has a well-established track record of working with company boards and upper management in an effort to deliver long-term value to shareholders.
The fund, which calls its investment style "constructive activism," holds approximately 90% of its portfolio in small-cap companies. Mid-cap companies such as Rovi Corporation (ROVI), PAREXEL International (PRXL),  Armstrong World Industries (AWI), and Terex Corporation (TEX) make up the remainder of Engaged Capital's portfolio.
Article continues below advertisement
Engaged Capital and Rovi Corporation
Engaged Capital's relationship with Rovi dates back to April 2013, when the fund first invested in the company. The fund has been in talks with the company's management and board concerning the improvement of cost structure, capital allocation, business strategy, executive compensation, and corporate governance. Rovi, which came about as a result of the 2008 merger between Macrovision and Gemstar-TV Guide, has been generating negative returns to its shareholders for the last seven years.
In a recent filing, Engaged Capital revealed that it had increased its position in Rovi from about 447,000 shares at the end of 2014 to about 550,000 shares as of March 2015. The position in Rovi represented around 8.2% of Engaged Capital's year-end portfolio. Currently, Glenn Welling's fund controls 0.6% of Rovi's outstanding shares.