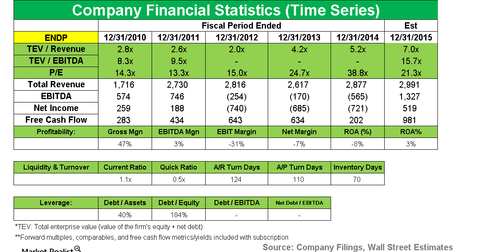 Endo International, a New Position for OZ Management
By Stuart McKenzie

Updated
OZ Management's holdings in Endo International
In the fourth quarter, Oz Management added a new stake in Endo International plc (ENDP) by purchasing 5,221,710 shares, representing 1.01% of the fund's 4Q14 portfolio. The stock is part of the iShares Russell 1000 Growth ETF (IWF) with a representation of 0.12%.
Article continues below advertisement
Endo withdraws proposal to acquire Salix Pharmaceuticals
In a March 16, 2015 ,press release, Endo International confirmed the withdrawal of its proposal to acquire Salix Pharmaceuticals (SLXP). This followed a move by rival bidder Valeant Pharmaceuticals (VRX) that increased its offer price to $173 per share, an increase of ~$1 billion over its earlier offer of $158 per share.
Divestiture of the men's and prostate health businesses
On March 2, 2015, Endo International announced an agreement to sell its Men's and Prostate Health businesses in its American Medical Systems (or AMS) unit to Boston Scientific (BSX) for ~$1.65 billion. As part of the agreement, Endo qualifies for a possible milestone payment amounting to $50 million if it achieves the revenue targets set by Boston Scientific for these businesses in 2016.
Endo is also considering other potential alternatives for the Women's Health business of AMS. This divestiture is expected to enable Endo to transform into a global business in specialty pharmaceuticals.
Article continues below advertisement
4Q14 revenues grow yet translate to $53.5 million loss
In Endo's earnings release on March 2, 2015, the company stated that 4Q14 revenues grew 37% over 4Q13 to $800 million. This was inclusive of revenues from new products that were part of M&A (merger and acquisitions) transactions in 2014.
However, a net loss amounting to $53 million was reported for the quarter, compared to a net loss in 4Q13 of $776 million. Reported diluted loss was $0.35 per share in 4Q14 compared to a reported diluted loss per share of $6.74 in the prior year period. While the DE (debt-to-equity) ratio for Endo is 1.8x, peer Actavis plc (ACT) has a value of 0.5x, which is less than a third of Endo's figure.
Endo's Auxilium acquisition to enhance branded pharmaceuticals business
In a January 29, 2015, press release, Endo announced that it has completed the acquisition of Auxilium Pharmaceuticals. It was part of a transaction estimated at $2.6 billion in value when it was announced earlier in October 2014. The company said the acquisition will enhance Endo's US branded pharmaceuticals business.
Endo expects its portfolio to have "a broader offering of urology and orthopedic products, including XIAFLEX®, TESTOPEL® and STENDRA®, which are natural complements to its men's health and pain products." The merged entity is also expected to drive organic growth across its portfolio and capitalize on additional future strategic M&A opportunities.
Overview of Endo International
Specialty pharmaceutical company Endo International's product portfolio focuses mainly on pain management, urology, oncology, and endocrinology. The company develops, manufactures, markets, and distributes branded pharmaceutical, generic pharmaceutical, over-the-counter medications, and medical device products through its operating companies. Endo operates through its three arms: branded pharmaceuticals (Endo Pharmaceuticals), generic pharmaceuticals (Qualitest), and medical devices (American Medical Systems). Endo is headquartered in Dublin, Ireland. Its US headquarters are in Malvern, Pennsylvania.
We'll take a look at OZ Management's increased position in DIRECTV (DTV) in the next part of this series.