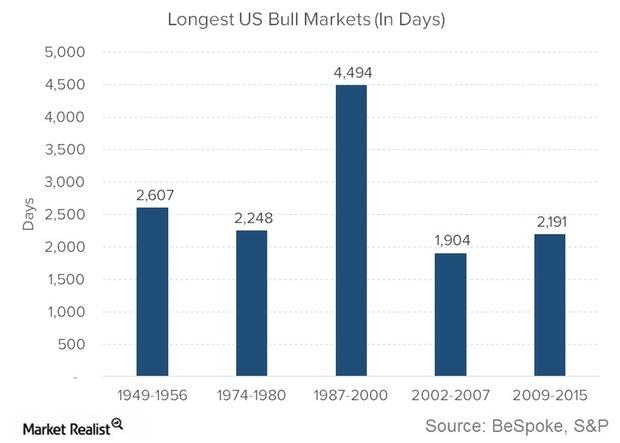 Is the End of the 6-Year Bull Run in Sight?
Russ explains why the stock market rally can continue, at least for another year.
Anniversaries are as much about reflection as celebration. A few weeks ago, the current bull market celebrated its sixth anniversary, making it one of the longest in history. Over the past six years, this stock market rally has been distinguished not only by its longevity, but also by its magnitude. U.S. stocks are up more than 200% from their March 2009 lows. This has left everyone wondering: "Is the end of the 6-year bull run in sight?" My view is not yet, and probably not until at least next year.
The below shows the S&P500 Index, considered by many investors to be an indicator of broad market performance. The Index has largely rallied since early 2009.
Article continues below advertisement
Market Realist:
It has been more than six years since the US financial crisis (XLF) caused a veritable bloodbath on Wall Street and left the S&P 500 (SPY) at a sobering low of 676.5. Flash forward to the present, and the S&P 500 (VOO) has more than tripled since March 2009 and the bulls have marched into year seven!
The six-year long trot has stormed past the European debt crisis (EZU), escalated geopolitical tensions in the Middle-East, the Ukraine–Russia conflict, and a general global growth slowdown.
Since March 9, 2009, US markets have scored gains of 253%. Both the S&P 500 (IVV) and the Dow Jones Industrial Average (DIA) achieved record highs in March 2015. The NASDAQ Composite (QQQ) raged past the significant 5,000 level three times in March alone. The index has registered nine consecutive quarterly gains—the longest winning streak in its history.
The current bull run is among the top five longest in history, as you can see in the graph above. According to information provider S&P Capital IQ, since World War II, the average bull market run has lasted 58 months. The current bull market run has been going strong for 72 months and counting. Having said that, the current bull remains short compared to the longest bull run in history that spanned 113 months.
Still, there's no denying that the bull market is aging. Many investors are wondering whether the end of the six-year bull run is in sight. In this series, we'll explore this possibility in greater detail.