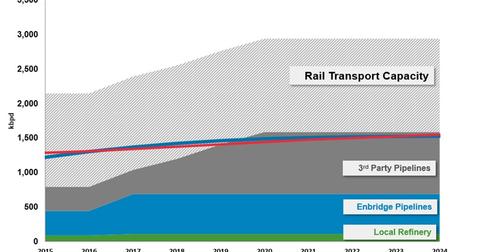 Enbridge Energy Parnters: Mid-Continent and North Dakota Systems
By Alex Chamberlin

Updated
Mid-Continent system assets
Previously in this series, we looked at the Liquids segment assets at Enbridge Energy Partners (EEP). In this article, we'll review the company's Mid-Continent and North Dakota systems.
The Mid-Continent system's pipelines run in the PADD II (Petroleum Administration for Defense Districts) region, which is located in the mid-continental US. Its assets include the Ozark pipeline as well as storage terminals at Cushing, Oklahoma, and Flanagan, Illinois. The system has 1,666 miles of pipelines and ~21.4 million barrels of crude oil storage.
Enbridge Energy Partners' (EEP) Ozark pipeline transports crude oil from Cushing to Wood River. Its primary customer is a Phillips 66 (PSX) refinery. In 2014, the average deliveries along the Ozark pipeline system were 200,000 bpd (barrels per day), just shy of 201,000 bpd reported in 2013.
Its terminals operate under both long-term and short-term storage contracts with multiple customers. Contract fees include fixed monthly capacity fees as well as usage fees. Typically, long-term contracts result in steady cash flows.
Article continues below advertisement
Value drivers
increasing demand for domestic and imported Canadian crude oil
connectivity with Cushing terminal, the oil marketing hub
increased competition from new pipeline capacity by competitors in Hardisty, Alberta to Patoka, Illinois
North Dakota system assets
This system consists of crude oil gathering and interstate pipeline transportation assets. The 847-mile long pipeline system caters to the Bakken–Three Forks area and the Williston Basin in North Dakota.
The system also has storage facilities, with current working storage capacity estimated to be ~1.8 million barrels.
Enbridge Energy Partners (EEP) has increased the North Dakota pipeline and rail export capacity from 80,000 bpd in 2005 to more than 650,000 bpd in 2014.
Other MLPs (master limited partnerships) engaged in the crude oil transportation business include Energy Transfer Partners (ETP), ONEOK Partners (OKS), and Enterprise Products Partners (EPD).
Enterprise Products Partners makes up 10% of the Alerian MLP ETF (AMLP).
Factors affecting North Dakota pipeline assets
demand for crude oil in the Great Lakes and Midwest regions of the United States
competition from rail transportation – 59% of the total Bakken crude exported from North Dakota is via rail