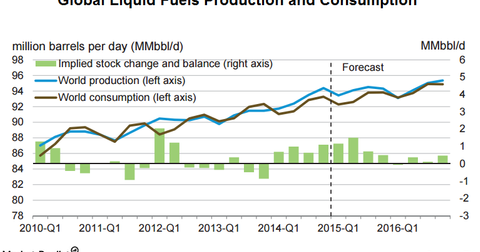 The EIA's Demand and Supply Forecasts for Liquid Fuels
By Keisha Bandz

Updated
World demand and supply forecasts
The EIA expects global petroleum and liquids production to exceed demand. The total world supply is expected to average 94 MMbpd (million barrels per day) in 2015 and 94.4 MMbpd in 2016. The world supply was 93 MMbpd in 2014.
Per the EIA, global consumption averaged 92.2 MMbpd in 2014. The EIA expects global consumption to grow by 1 MMbpd to 93.2 MMbpd in 2015, and by another 1 MMbpd in 2016 to 94.2 MMbpd.
When supply outpaces demand, inventories swell. This is bearish for crude prices and affects the profitability of oil producers like Chevron (CVX), Murphy Oil (MUR), Hess (HES), and Continental Resources (CLR). CVX, HES, and MUR make up 15% of the Energy Select Sector SPDR ETF (XLE).
Article continues below advertisement
Global oil inventories
Global oil inventory builds are expected to average 1.3 MMbpd in 1H15. These builds will later be moderated in the second half as non-OPEC supply, particularly in the US, slows down due to low prices and demand rises.
Non-OPEC petroleum and other liquids supply
The EIA estimates that non-OPEC production grew by 2.2 MMbpd in 2014. This growth was led by the US. The EIA expects supply to grow at a slower 1 MMbpd in 2015 and 0.6 MMbpd in 2016 because of lower oil prices. The slower growth is mostly a result of slower production growth in the US.
OPEC petroleum and other liquids supply
According to the EIA's estimates, OPEC's crude oil production averaged 30.1 MMbpd in 2014. Non-crude oil liquids averaged 6.4 MMbpd in 2014. The EIA expects OPEC crude production to remain flat in 2015 and decline by 0.3 MMbpd in 2016. Non-crude liquids production is expected to increase by less than 0.1 MMbpd in both 2015 and 2016.
In the next part of this series, we'll discuss the movements in crude prices in the past week.