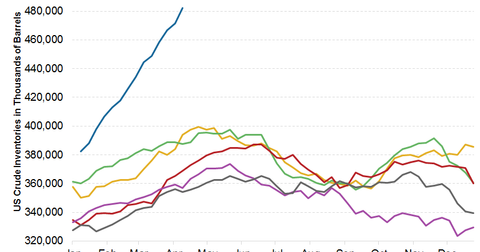 EIA's Crude Inventory Report: Key Trends for April 3 Week
By Keisha Bandz

Updated
EIA inventory data
For the week ended April 3, the EIA (U.S. Energy Information Administration) Crude Inventory Report indicated an increase of 10.9 million barrels in crude inventories, causing inventories to rise to 482.4 million barrels, the highest level in almost 80 years.
Analysts were expecting an increase of 3.25 million barrels, less than double the actual increase.
When inventories increase more than expected, it's bearish for crude prices. It negatively affects earnings for major oil producers such as Hess Corporation (HES), Anadarko Petroleum (APC), Chevron Corporation (CVX), and Exxon Mobil (XOM). All these companies are components of the Energy Select Sector SPDR ETF (XLE) and make up 33% of the fund.
Article continues below advertisement
Supply trends last week
Last week, crude oil production increased by 18,000 barrels per day to 9.4 million barrels per day, resuming its previous pattern of rising consistently. In the week prior, a decline in production led to a speculation that production had likely reached its peak and would start falling. Supply comes from domestic production and imports from other countries.
Another contributor to the rise in crude stocks was an increase in imports last week of 869,000 barrels per day.
In the next part of this series, we'll see if demand-related factors have balanced supplies.
Supply forecasts for 2015
According to the EIA's April STEO (Short-Term Energy Outlook), total US crude oil production averaged 9.3 million barrels per day (or MMbbl/d) in March. It averaged 9.4 MMbbl/d in February. The EIA said production will decrease from June through September before it begins to increase again. The EIA also forecast that output will average ~9.2 MMbbl/d in 2015 and ~9.3 MMbbl/d in 2016. Crude output averaged ~8.67 MMbbl/d in 2014.
Importance of crude oil
Crude oil is one of the most important sources of energy for the world. Its refined products, including gasoline, have several applications ranging from powering cars to building roads. The price of crude oil is important not only for individuals but also for the world's economies and industries.
Supply-and-demand trends determine crude price trends. These trends can easily be gauged from trends in crude inventory levels. The EIA usually reports weekly figures on crude oil inventories every Wednesday.