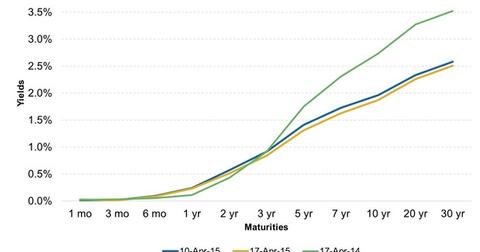 Economic Indicators Drive Treasury Yields Lower Last Week
By David Ashworth

Updated
Secondary market
Yields on most Treasury securities fell in the secondary market in the week ended April 17, 2015, from a week ago. Treasuries reacted to important economic reports like inflation and retail sales, along with comments from a few policymakers regarding the long-awaited interest rate hike.
The two-year to 30-year maturity securities saw yields falling in the 6–10 bps (basis points) range. Yield on the benchmark ten-year Treasury note fell by 9 bps week-over-week, ending at 1.87%.
Article continues below advertisement
CPI, retail sales data move Treasuries
Economic indicators were the primary movers of Treasury prices in the week to April 17. The CPI (Consumer Price Index) rose 0.2% for the second straight month in March. However, from a year ago, prices fell in the month. Treasury yields flattened after the release of the data. Yields up to three-year maturity mostly rose, while yields on longer maturities fell.
Although the Federal Reserve tracks changes in the PCE (Personal Consumption Expenditures) price index for inflation, it also closely watches CPI data. The latest release, though positive, may not give policymakers enough confidence to raise interest rates in a hurry.
While CPI data evoked mixed responses from market participants, retail sales data were almost uniformly viewed negatively. Retail sales rose 0.9% in March, but the pace was less than expected. Auto sales pushed retail sales up as core retail sales, which are used to assess consumer spending, rose just 0.3% in the month. Yields fell after the report was released.
Sales at home furnishing and furniture stores such as Mohawk Industries (MHK) and Leggett & Platt (LEG) rose in March. Growth in these categories is also an important indicator for sales gains at major home improvement retailers such as Home Depot (HD) and Lowe's (LOW).
Article continues below advertisement
Policymakers' statements
Boston Federal Reserve Chief Eric Rosengren opined that the rate hike should be delayed since inflation remains below the Fed's target of 2% and recent non-farm payrolls data have sent mixed signals about the health of the job market.
Atlanta Fed Chief Dennis Lockhart was also not in a favor of raising rates in a hurry, although he did note that a June rate hike was not off the table.
Both these views helped Treasury yields fall.
Investment impact
Due to the fall in yields of Treasury securities, Treasuries-related ETFs rose due to the inverse relationship between yields and prices. The iShares 20+ Year Treasury Bond (TLT) rose 1.4%, and the iShares 7-10 Year Treasury Bond (IEF) rose 0.8% in the week.
ETFs tracking the broader fixed income market also rose. The Vanguard Total Bond Market ETF (BND) and the iShares Core U.S. Aggregate Bond ETF (AGG) rose 0.4% each in the week.
In the next article, let's take a look at the retail sales report, which affected Treasuries.