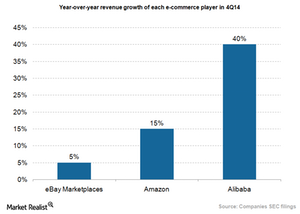 eBay and Paypal Will Be Tightly Integrated Even after the Split
By Puneet Sikka

Updated
eBay and Paypal will be tightly integrated even after the split
eBay (EBAY) provided new details in securities filings last week. Both eBay and Paypal will have to abide by certain rules even after the split. The filings mention that eBay will pay restitution fees to Paypal if it doesn't route 80% of its gross merchandise sales through the Paypal payment system. Similarly, Paypal will have to pay eBay a penalty if it doesn't route the majority of its payments through eBay.
The agreement also mentions that eBay can't develop its own payments system. Also, Paypal can't form its own marketplace for selling goods. This agreement will be valid for six years.
Article continues below advertisement
eBay's Marketplaces business is growing slowly
eBay announced the split with Paypal in September last year. Previously, it resisted pressure from activist investor Carl Icahn. eBay and PayPal had been on different growth trajectories for a while. This is why shareholders urged eBay to spin off PayPal. eBay reported only 5% YoY (year-over-year) revenue growth for its Marketplaces business in 4Q14—compared to Paypal's revenue growth of 18%.
As the above chart shows, the Marketplaces' revenue growth is way slower than other companies including Amazon (AMZN) and Alibaba (BABA). Amazon achieved revenue growth of 15% in 4Q14, while Alibaba achieved 40% growth. Although Alibaba is benefiting from the China (FXI) growth story, 40% growth is still impressive.
There are more competitive issues for eBay to handle. Google's (GOOG) (GOOGL) product listing ads are a threat to e-commerce players. We discussed this in Google Is Pleased with Product Listing Ads' Performance.
For the latest tech sector updates, visit Market Realist's Tech, Media, and Telecom page.