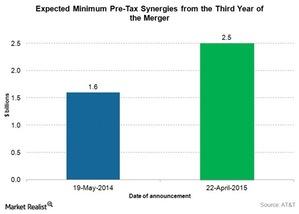 DIRECTV Transaction: AT&T Now Expects Higher Synergies
By Ray Sheffer

Apr. 28 2015, Updated 12:21 p.m. ET
DIRECTV merger: AT&T expects more benefits
In the last part of this series, we looked at AT&T's (T) DIRECTV (DTV) transaction. The merger is expected to bring the typical synergies to the combined entity. But AT&T now expects more benefits from the DIRECTV transaction than it had anticipated earlier.
According to AT&T's press release on April 22, the day the telecom (telecommunications) company declared its 1Q15 results, "The company now expects cost synergies from this transaction to reach at least $2.5 billion on an annual run rate by year three after closing. This is an increase from $1.6 billion that was expected at the time the deal was announced last year."
Article continues below advertisement
Expected synergies from the DIRECTV transaction
AT&T had earlier given guidance of a minimum of $1.6 billion in annual synergies to be achieved by the third year of the completed DIRECTV transaction. The company talked about these synergies when it announced the DIRECTV transaction in May 2014.
One of the key contributors to these synergies was content costs. The combined entity will have a massive US subscriber base that will give AT&T better bargaining power with media networks. Telecoms such as AT&T and Verizon (VZ) have a smaller pay-TV subscriber base than cable or satellite TV providers.
According to AT&T, it has to pay higher content costs as a percentage of video segment revenue than DIRECTV.
AT&T expects the additional ~$0.9 billion cost synergy, which it announced in its 1Q15 results, to come from new areas. These include cost savings in shared operational areas in bundled Internet and video services. They also include lower per unit procurement costs of setup boxes for the combined entity.
If you want a diversified exposure to both AT&T and DIRECTV, you can invest in the SPDR S&P 500 ETF (SPY). The ETF held ~0.9% in AT&T and ~0.2% in DIRECTV on March 31, 2015.
You can also take an extremely diversified exposure to the telecom company as well as the satellite pay-TV provider by investing in the iShares MSCI ACWI ETF (ACWI). ACWI held ~0.4% in AT&T and ~0.1% in DIRECTV at the end of March.