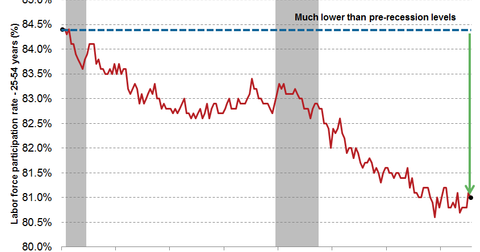 The Cyclical Aspect of the Labor Market Conundrum
By Russ Koesterich, CFA

Apr. 23 2015, Published 8:26 a.m. ET
3. A mismatch between skills employees have and those employers need.
While a large part of the decline in participation is secular, there is a cyclical aspect of the labor market conundrum as well. People typically drop out of the work force during, and immediately after, recessions. What is different this time is that those individuals are not returning to the labor force as was the case in past cycles. This is arguably a function of the unique nature of the last recession. Demand for workers has shifted. In many industries, construction for example, demand is still well below the pre-recession peak. Displaced workers also may lack the necessary skills for the new jobs, for example in healthcare (IYH).
Market Realist –
Article continues below advertisement
Cyclical aspect of the labor market conundrum and skills mismatch
The above graph shows the civilian labor force participation rate for workers aged 25–54 years. This age group is considered the prime workforce since it's the most productive and has the largest participation rate among all age groups.
After the technology bubble burst of 2000 (XLK) (IYW) and the financial crisis of 2008 (XLF), the labor force participation rate was expected to decline. However, even though the economy has largely recovered from the period of recession and the bull run is in full force for the equity markets (VOO) (IVV), the labor force participation rate has not picked up to pre-recession levels and continues to trend downward.
There is a skill mismatch in the US economy. This has also been noted by Bart Hobijn of the Federal Reserve Bank of San Francisco and Aysegul Sahin of the Federal Reserve Bank of New York in a 2013 paper. Hobjin and Sahin stated, "The displacement of a large part of the labor force during deep recessions results in a shift of the composition of vacancies and an increase in mismatch in the labor market which leads to a decline in measured match efficiency….[T]he U.S. experience in the wake of the Great Recession perfectly fits this profile, with construction jobs being at the center of both the composition effect as well as the increase in skill mismatch."
Both construction and healthcare (XLV) (IYH) are currently suffering slack on account of a skill gap in the workforce. The Economic Policy Institute estimates that 5.76 million Americans are missing from the workforce. The Heritage Foundation estimates the figure to be 6.9 million.
Read on to the next part of this series to understand the implications of the declining labor force participation rate.