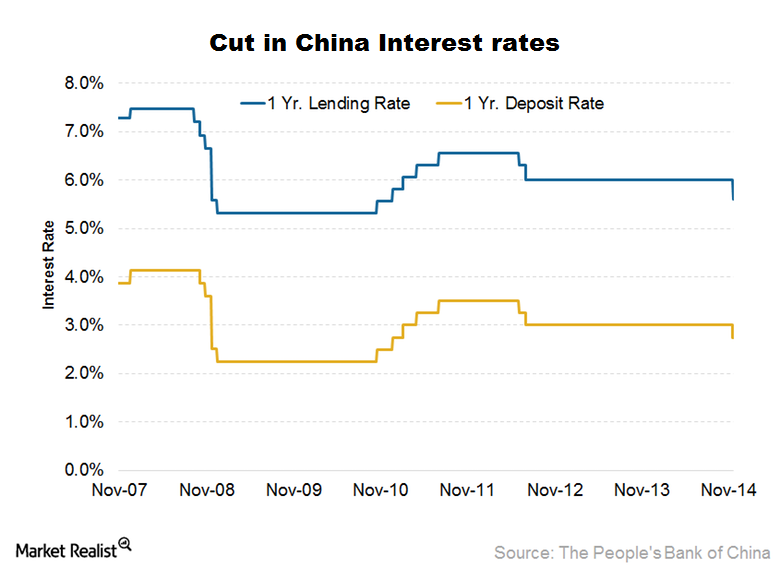 Would the Cut in Bank Reserves Help China's Steel Industry?
Cut in bank reserves
On April 19, China's central bank reduced the RRR (reserve requirement ratio) for all banks by 100 basis points. In February, China cut the RRR by 50 basis points. The latest cut is the largest single reduction in RRR by the Chinese central bank since 2008. The announcement to cut bank reserves came a few days after the release of the first quarter GDP (gross domestic product) numbers. The numbers were the lowest since 1Q09.
In March, Chinese exports declined by 15% on a YoY (year-over-year) basis. The latest cut in bank reserves is another step by China (FXI) to address its slowing economy.
Article continues below advertisement
Lower benchmark rates
Last year, China lowered its benchmark rates. This was China's first rate cut in nearly two years. The above chart shows the trends in benchmark lending and deposit rates in China.
No quick fix
The slowdown in China's real estate industry doesn't have a quick fix. There's a huge amount of unsold inventory with Chinese real estate developers. The falling real estate prices also reduced investor interest in property investments. Analysts believe that it will take some time for the sentiment to turn positive. China might have to take several more measures to counter the slowdown in its economy.
Companies like ArcelorMittal (MT) and Mechel OAO (MTL) are negatively impacted by the slowdown in global steel demand. The SPDR S&P Metals and Mining ETF (XME) invests ~35% in steel companies. Carpenter Technologies (CRS) forms 3.28% of XME.
The WSA (World Steel Association) expects steel demand to increase by 400 million tonnes, or 25%, by 2030. What makes WSA optimistic about steel demand? We'll discuss this in the next part of this series.