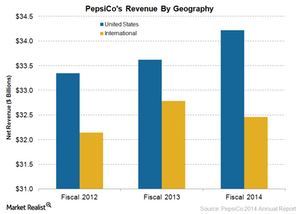 Why Currency Fluctuations Should Drag on PepsiCo's 1Q15 Revenue
By Sirisha Bhogaraju

Apr. 17 2015, Updated 10:10 a.m. ET
Strengthening dollar
The strengthening US dollar versus major currencies has been affecting companies with significant international exposure. PepsiCo (PEP), which derives ~49.0% of its revenue from international markets, expects currency fluctuations to have a significant impact on its 2015 results. According to the guidance that the company issued in February 2015, currency fluctuations should have a 7 percentage point negative impact on PepsiCo's 2015 revenue.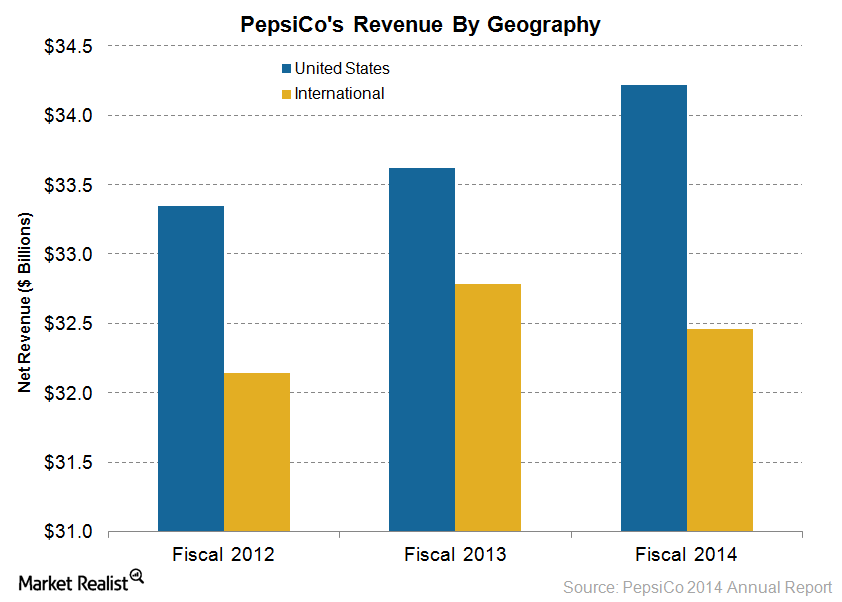 Article continues below advertisement
Fiscal 2014 international revenue declines
In fiscal 2014, PepsiCo's international revenue declined by ~1.0% to $32.5 billion compared to last year. The net revenue growth of both the Latin America Foods and Europe segments reduced by 8 percentage points due to adverse foreign exchange. The macro factors in Eastern Europe and Russia had a major influence on the company. PepsiCo's business in Russia generated ~7.0% of the company's 2014 revenue. The net revenue growth of PepsiCo's Asia, Middle East, and Africa segment reduced by 3 percentage points due to currency headwinds.
PepsiCo's net revenue increased by 0.4% in 2014 to $66.7 billion. Overall, weakening foreign currencies reduced 2014 net revenue by 3.0%.
PepsiCo's rivals like Coca-Cola (KO) and Mondelez (MDLZ) also have significant international exposure. International operations account close to 57.0% and 80.0% of Coca-Cola and Mondelez's respective total revenues. Sales to international customers accounted for 21.7% of Monster Beverage's (MNST) 2014 revenue.
The consumer staples sector, which includes beverage and food companies, constitutes ~9.7% of the portfolio holdings of the SPDR S&P 500 ETF (SPY). PepsiCo makes up ~0.8% of the portfolio holdings of the SPY ETF.