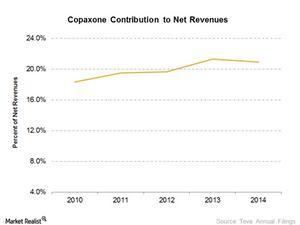 Copaxone, a Significant Growth Driver for Teva
By Nicole Sario

Apr. 9 2015, Published 3:09 p.m. ET
Copaxone contribution 
Copaxone 20mg/mL (injectable form) is the major growth driver for Teva Pharmaceutical Industries Ltd. (TEVA). In 2014, Copaxone contributed a significant 21% to Teva's revenues. However, Copaxone revenue growth has been declining for the past three years. It fell 12% in 2012, 8% in 2013, and -2% in 2014 on a year-over-year basis. This is due to volume erosion resulting from increased competition from the oral drug Tecfidera manufactured by Biogen.
Copaxone continues to lead the multiple sclerosis (or MS) market with 31.3% of the total prescription market.
In 2014, around 73% of Copaxone revenues were generated in the United States. According to IMS Health, Copaxone had a market share of 31.5% in terms of total prescriptions in 2014. More than 170,000 patients per year consume Copaxone.
Article continues below advertisement
Switching strategy
The Copaxone 20mg/mL patent expired in 2014. This is expected to significantly impact Teva's revenues due to its generic versions. The drug has a revenue potential of $4.2 billion annually. Both Novartis and Mylan (MYL) are developing biosimilars that are difficult to develop due to its complex structure.
To reduce this impact, Teva formulated a switching strategy and launched a new version of Copaxone 40mg/mL in the United States with a patent expiry of 2030. This is a higher dosage of Copaxone, used three times a week instead of daily. Currently, Copaxone 40mg/mL accounts for ~63% of Teva's Copaxone franchise. Actavis (ACT) is following a similar strategy for Namenda in central nervous system.
Copaxone profile
Copaxone is the leading biological drug used for the treatment of MS. Its molecular name is glatiramer acetate. MS represents a nervous system disorder in which the protective shield of nerves is damaged. This disrupts the communication of the brain with the body. Relapsing-remitting multiple sclerosis (or RRMS) is a form of MS. In RRMS, the patient may have attacks, called relapses, followed by recovery or remission.
There is no cure for MS, but treatments may help speed recovery from attacks or reduce the frequency of relapses. Copaxone is widely used to reduce the frequency of RRMS. Worldwide, about 2.5 million people are affected with this disease.
Pharmaceutical ETFs such as the First Trust Health Care AlphaDEX Fund (FXH) and the iShares U.S. Healthcare ETF (IYH) are capitalizing on the profitability of the companies mentioned in this article.