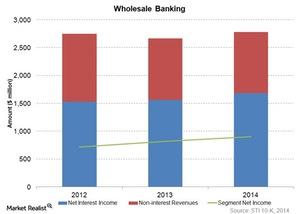 Commercial Loans Drive SunTrust's Wholesale Banking Growth
Wholesale Banking business
The Wholesale Banking segment of SunTrust (STI) offers a range of services:
corporate banking
investment banking
commercial banking
business banking
real estate financing
treasury management
payment solutions
The corporate and investment banking arm provides capital market advice, capital raising assistance, and financial risk management to companies with annual revenues typically greater than $150 million.
The commercial and business banking arm has an array of traditional offerings, including cash management services and investment banking services. Generally speaking, commercial clients have average revenues of $1 million to $150 million.
The real estate arm assists commercial real estate developers, owners, and investors. It also provides tailored financing and equity investment solutions that primarily focus on real estate investment trusts.
Article continues below advertisement
Net interest income
The Wholesale Banking segment's net interest income increased in 2014 compared to 2013. Higher loan and deposit balances drove this growth, but lower rate spreads partially offset it.
Average loan balances rose by 16%. Commercial, industrial, real estate, and tax-exempt loans contributed to this growth.
A decline in higher-cost CD balances and an increase in lower-cost demand deposits contributed to net interest income growth. The segment's net income increased 9% compared to 2013 due to an uptick in net interest income and a decrease in provisions for credit losses. An increase in non-interest expenses partially offset this.
Growth in commercial and industrial loans
The demand for commercial and industrial loans has been increasing for quite some time. In line with this trend, SunTrust's competitor BB&T (BBT) recorded higher growth in its commercial loan portfolio during 2014. You can learn more about BB&T's corporate loan growth by reading BB&T Focuses on Expanding Corporate Banking Services. We'll discuss SunTrust Bank's loan portfolio and its growth later in this series.
Regions Financial (RF) also recorded growth in commercial loans in 2014. The company is expecting comparatively higher growth in this segment in 2015. Bank of America (BAC) also witnessed higher growth in its commercial loan portfolio.
SunTrust Bank forms about 1.4% of the SPDR S&P Regional Banking ETF (KRE) and roughly 5.5% of the iShares US Regional Banks ETF (IAT).