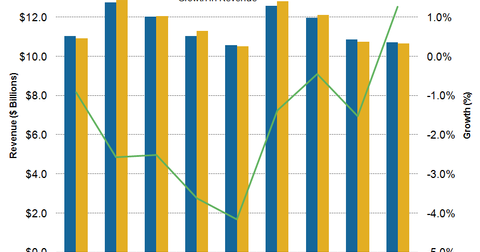 Coca-Cola Finally Posts Revenue Growth in 1Q15 after 9 Quarters
By Sirisha Bhogaraju

Updated
1Q15 results
Coca-Cola (KO) reported its results for 1Q15 ending April 3, 2015, on April 22 before the opening of the financial markets. The company reported revenue growth of 1.3% in 1Q15, following a decline in all quarters of 2013 and 2014. The company's shares surged by 1.3% to $41.31 on April 22.
Coca-Cola is the second largest component of the Consumer Staples Select Sector SPDR ETF (XLP) and makes up ~8.8% of the fund. Coca-Cola also constitutes 0.9% of the iShares Core S&P 500 Index ETF (IVV).
Article continues below advertisement
Revenue beats estimates
Coca-Cola's 1Q15 revenue increased to $10.7 billion, compared with $10.6 billion in the first quarter of last year, due to a 1.0% growth in overall volume, as well as higher pricing. The company also attributed the higher sales to an early Easter this year and six extra days in the fiscal quarter ended April 3, 2015. The company's 1Q15 revenue beat analysts' estimates of $10.6 billion.
Volumes mark improvement
Sparkling beverage and still beverage volumes grew by 1.0% each in the first quarter. In the sparkling beverage category, Coca-Cola's brand volume grew by 1.0%, Coke Zero grew by 5.0%, Sprite volume increased by 4.0%, and Fanta saw 3.0% growth in its first quarter volumes. Diet Coke volume declined by 6.0%. Diet soda volumes have been plummeting over recent years, as consumers are showing an aversion to aspartame and other sugarless sweeteners.
The volume growth in still beverages was spurred by ready-to-drink tea, value-added dairy, and packaged water. However, the volumes for juice and juice drinks declined due to price increases and weak demand in certain markets.
For an overview of Coca-Cola's business and products, please read our company overview on Coca-Cola.
Currency headwinds
Unfavorable currency movements impacted Coca-Cola's 1Q15 revenue by 6.0%. PepsiCo's (PEP) 1Q15 revenue faced an 8.0% adverse impact. Dr Pepper Snapple (DPS), which has lower international exposure compared with the beverage giants, reported a 1.0% unfavorable impact of foreign currency translation on its 1Q15 revenue.
Despite currency headwinds, Coca-Cola's 1Q15 adjusted earnings beat analysts' estimates.