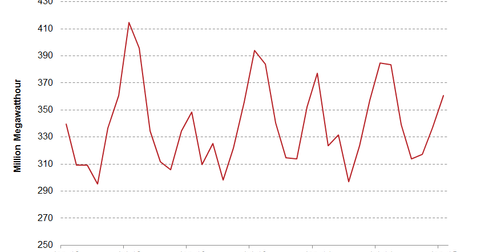 Coal's Market Share Falls with Fall in Electricity Generation
By Mike Sonnenberg

Updated
Electricity output
Another key indicator is the monthly electricity output data published by the U.S. Energy Information Administration (or EIA). Since thermal coal is used mainly in electricity generation, electricity output is an important indicator to track thermal coal's demand outlook. To get more insight, we should also look at how much coal is contributing to total electricity output.
Electricity output in the United States was stagnant after the crisis in 2008. Consumers were cautious about using electricity. Also, new technology made appliances more efficient in regard to electricity usage. Stagnant electricity demand and rising competition from natural gas led to a decrease in coal's share in electricity generation.
Article continues below advertisement
Electricity output falls
According to recent data published by the EIA, electricity generation came in at 360 million megawatt hours (or MWh) in January 2015 compared to 377 MWh in January 2014. Lower electricity generation coupled with weak natural gas prices led to coal's market share falling to 36.8% in January 2015 compared to 41.8% in January 2014. During the same period, natural gas gained more than 4% in share to 28.1%.
What does this mean?
Electricity production's grim picture isn't encouraging for coal producers (KOL), including Alpha Natural Resources (ANR), Arch Coal (ACI), and Peabody Energy (BTU). However, the economy (SPY) is showing traction.
Electricity output is related to gross domestic product (or GDP) growth. To learn more, read Why electricity demand is linked to GDP. If economic growth continues to grow at a satisfactory pace, electricity output may increase as industrial and commercial electricity usage increases.