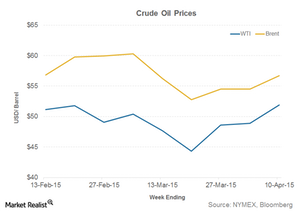 Coal Under Pressure as Crude Oil Rises while Natural Gas Falls
By Mike Sonnenberg

Apr. 16 2015, Published 11:48 a.m. ET
Oil prices rise
Both West Texas Intermediate (or WTI) and Brent crude prices increased during the week ending April 10. WTI prices increased by over $3 per barrel to $51.91 during the week ending April 10 from $48.88 a barrel for the week ending April 3. Brent crude prices averaged $56.70 a barrel during the week ending April 10, up from $54.49 for the week ending April 3.
As WTI crude prices increased more than Brent's, the Brent-WTI spread narrowed to $4.79.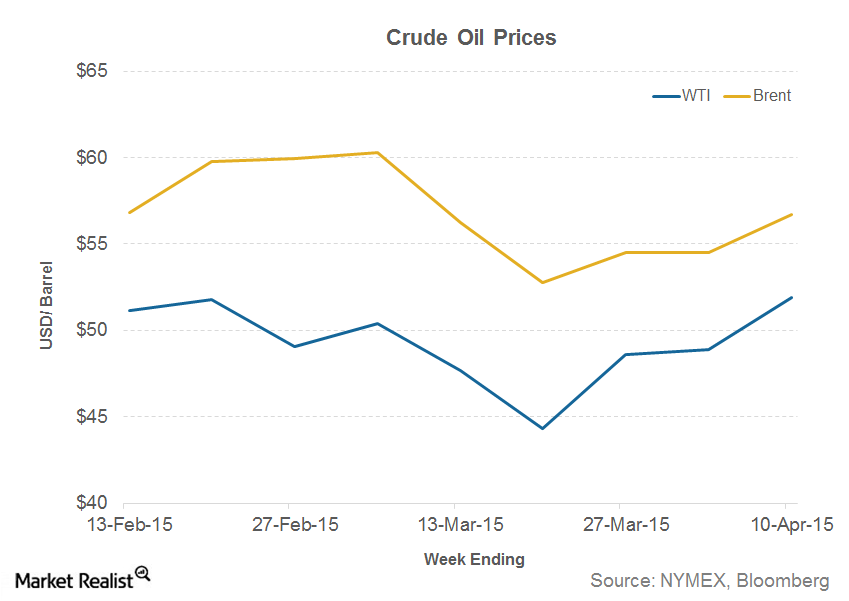 Article continues below advertisement
Oil prices
While coal and crude oil don't compete with each other, it's important for investors to track oil prices. Coal producers (KOL) such as Alpha Natural Resources (ANR), Arch Coal (ACI), Peabody Energy (BTU), and Cloud Peak Energy (CLD) are affected by falling oil prices. These producers are affected in multiple ways.
Impact on coal
Crude oil prices provide a mixed indicator for the US coal industry (KOL). On a positive note, the rise in oil prices leads to a rise in fuel costs. On the other hand, a fall in crude oil prices results in a fall in fuel costs. Moreover, a continued fall in oil prices may encourage US producers to cut down on production, putting pressure on freight rates.
If crude oil production drops, there will be more rail cars available to transport coal. Coal producers based in the Powder River Basin (or PRB) faced severe rail underperformance issues in fiscal 2014. While the situation is improving, there are still some bottlenecks.
Energy stocks, including coal, generally follow the trajectory of crude oil prices. A drop in oil prices in the second half of 2014 pulled all energy stocks down.
For utilities (XLU), the impact of oil prices is not significant, as oil is not a major fuel that powers electricity generation in the US.