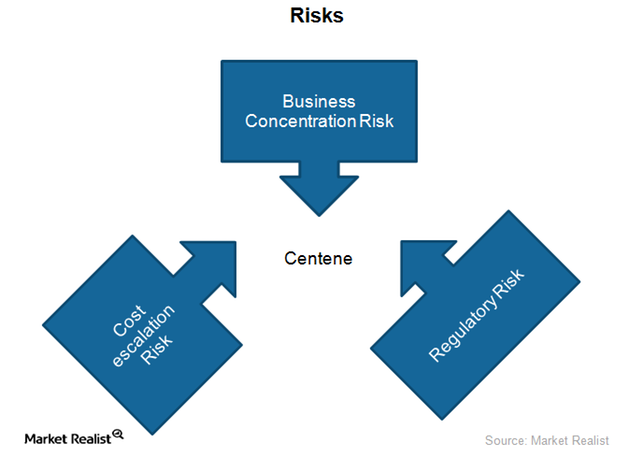 What Are Centene's Key Risks?
By Margaret Patrick

Apr. 9 2015, Updated 1:06 p.m. ET
Key risks
Centene (CNC) faces a unique combination of business risks as well as risks specific to the health industry (IYH). The company-specific risks indicate the long-term sustainability of the company's profits.
Article continues below advertisement
Business concentration risk
Compared to other companies in the industry—like UnitedHealth Group (UNH), Cigna (CI), and Anthem (ANTM)—Centene has a highly concentrated business mix. About 98.2% of Centene's enrollments are sponsored by Medicaid and other government programs for low-income people.
Centene entered into contracts with 22 state governments to provide managed Medicaid services in exchange for a fixed payment per member each month. These government contracts generally extend for three years. However, after the expiration, the contracts are opened for bidding by the state government. If Centene doesn't win these contracts or the states terminate the contract for non-adherence of certain provisions, the company will lose enrollments.
Also, effective January 2014, the Supreme Court permitted states to opt out of the Medicaid expansion program. A number of states, where Centene offers Medicaid services, indicated their current decision to opt out of Medicaid expansion. If states exit the Medicaid expansion program, Centene will witness a reduction in Medicaid enrollments and future growth opportunities.
Article continues below advertisement
Cost escalation risk
ABD (Aged, Blind and Disabled), duals—people eligible for both Medicaid and Medicare programs, and Medicare beneficiaries account for about 11.2% of Centene's enrollments. Since these people suffer from complex conditions, they use a large proportion of medical resources. Unexpected outbreaks of diseases or gaps in providing care—like non-adherence to prescribed drugs and timely physician visits—can lead to large hospitalization and emergency expenses for this segment.
Regulatory risk
In an attempt to diversify its business mix, Centene entered the individual segment. It offered health plans on public exchanges in certain states in the US. The Affordable Care Act provides tax credits to low-income households to assist with the cost of health insurance on insurance exchanges.
The Supreme Court agreed to hear a case deciding whether tax subsidies should be provided to people buying insurance through federally run exchanges. If the Supreme Court enforces strict interpretation of this clause in its June 2015 verdict, people enrolled through HealthCare.gov will lose their federal subsidies.
In the absence of federal subsidies, healthy people might opt out of coverage and only extremely sick people will continue with insurance. Since Centene doesn't have a track record of managing risks in the individual segment, it will increase the company's risks.