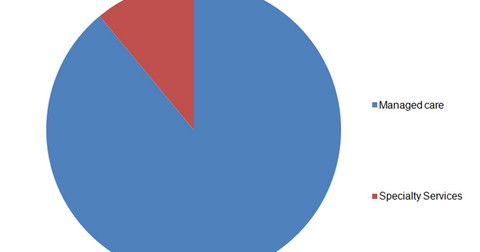 What Are Centene's Key Business Segments?
By Margaret Patrick

Apr. 7 2015, Updated 7:06 p.m. ET
Business segments
Due to the declining percentage of employer-sponsored enrollments, companies in the health insurance industry (IYH) have been actively changing their business mix to align with the fast-growing, government-sponsored business.
In such an environment, companies like Humana (HUM) and Centene (CNC) benefited the most. Companies like UnitedHealth Group (UNH) and Aetna (AET) have substantial government-sponsored business. These companies also benefited.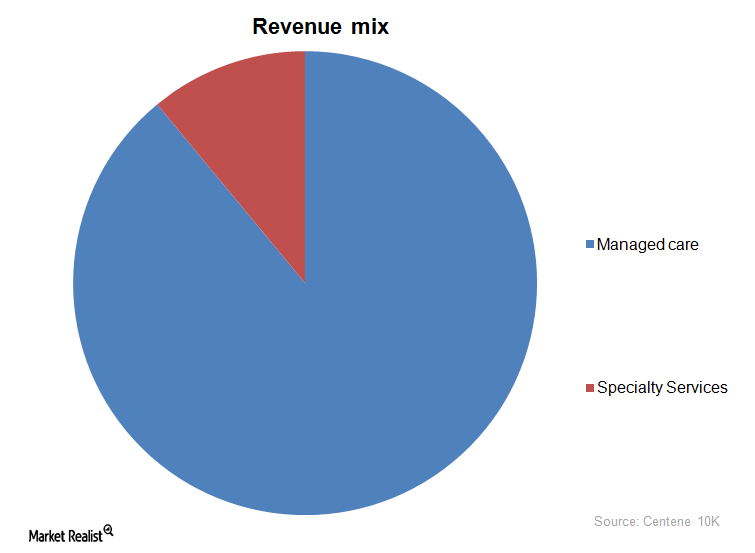 The above graph shows that Managed Care services account for 89% of Centene's total revenue. Specialty Services account for the remaining 11%.
Article continues below advertisement
Managed Care
Centene operates local health plans. It offers a range of health insurance solutions. The company's Managed Care segment offers health insurance services to individuals through government-subsidized programs—like Medicaid, CHIP (State Children's Health Insurance Program), LTC (Long-term care), Foster Care, Duals (dual eligible individuals), and the ABD (Aged, Blind or Disabled) program.
Beginning 2014, the company also started offering services to individuals through federal and state-based public health insurance exchanges. This indicates the company's strategy to gradually diversify from its Medicaid-focused business model to reduce the excessive risk in its concentrated portfolio.
Specialty Services
Centene's Specialty Services segment complements the company's core Managed Care business. The segment enables the company to diversify its revenue streams and provide higher quality care to its members at optimal costs.
Specialty Services is comprised of several specialty companies. The companies offer a variety of specialty services—like dental services, behavioral health services, care management services, in-home health services, and correctional healthcare services. These services are provided to state programs, correctional facilities, healthcare organizations, and employer groups. They're also provided to Centene's customers.