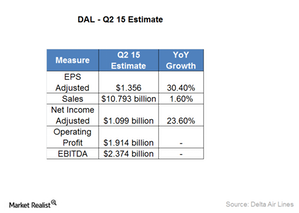 What Can Investors Expect from Delta Air Lines in 2Q15?
2Q15 forecast
For 2Q15, Delta Air Lines expects to increase its revenues by 2% based on 3% growth in capacity and a 2%–4% decline in revenue per available seat mile (or RASM) due to currency headwinds and a decline in the international surcharge.
Operating margins are expected to increase 16%–18% including hedges as a result of cost saving due to increased operational efficiency and decreased fuel costs and capacity reductions.
Article continues below advertisement
Analysts' estimates
Analysts expect Delta's sales to be ~$11 billion, which is a 1.6% year-over-year growth. Analysts expect net income to be ~$1 billion, which is a growth of 23.6% year-over-year.
Capacity reduction after peak summer season
For the year, Delta plans to improve its RASM by reducing its international capacity by 3% year-over-year. This is expected to be a key driver for improvement in pricing, thereby improving long-term margins.
The majority of this reduction is expected to come from emerging markets to protect against currency volatility like Brazil, India, Africa, and the Middle East of ~15%–20%. Capacity in Japan is expected to reduce by 25% to reduce impact from yen devaluation. Overall capacity reduction in the Pacific region will be 10% in 4Q15. Latin America and Trans-Atlantic will see a minor reduction of ~2%.
DAL will achieve this reduction in capacity by downgauging its fleet, which it will undertake after the peak summer season. It plans to remove an additional six 747s by year end.
Other airlines
Other major airlines will soon report their 1Q15 results. We'll be covering all of them.
These airlines are part of many ETFs, including the iShares Transportation Average ETF (IYT) and the PowerShares DWA Consumer Cyclicals Momentum Portfolio (PEZ). Mark these dates on your calendar and check back here for analyses of the results.