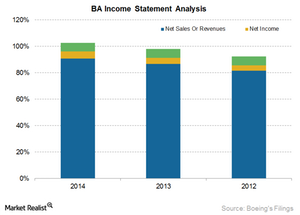 The Boeing Company's Financial Performance in 2014
By Ally Schmidt

Updated
Financial overview
The Boeing Company (BA) has performed well over the last few years, as the airline industry saw improved demand across the globe. The major US airlines include United Continental (UAL), Southwest Airlines (LUV), Delta Air Lines (DAL), and American Airlines (AAL). ETFs that have exposure to stocks of airline companies include the SPDR S&P Transportation ETF (XTN) and the iShares Transportation ETF (IYT).
Article continues below advertisement
The orders and deliveries race
In 2014, Boeing reached an annual record for orders and deliveries of its commercial jetliners. Along with a drop in deal cancellations, this helped the company retain its title of the world's largest plane manufacturer for the third consecutive year. Boeing delivered 723 jets in 2014, surpassing its rival Airbus's 629 during the year.
However, Airbus beat Boeing in 2014 in the annual race to book new orders for jetliners. Airbus booked 1,456 net aircraft orders, compared to Boeing's 1,432 net orders in 2014. The company had a very successful end of the year, adding 174 new orders in December alone, including 20 777s and 16 787s.
Revenues
Boeing's revenues grew by a strong 5% year-over-year to reach $91 billion, while its earnings per share also grew by 14% year-over-year to reach $8.60. The company's operating cash flow stood at about $8.9 billion, driven by higher deliveries, strong operating performance, and favorable timing of receipts and expenditures. Boeing also saw strong growth in its backlog during the year.
In 2014, Boeing successfully launched several programs, including the 777X, 787-10, the single-aisle 737 MAX 200, and the model certification and delivery of the first ten 787-9 jets. Boeing also decided to boost production of its single-aisle 737 in 2018.