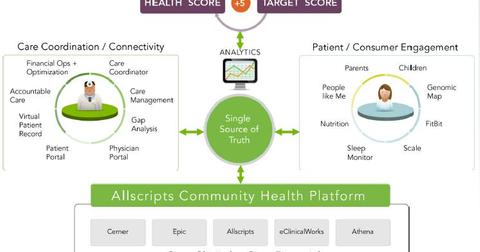 Blue Harbour Ups its Stakes in Allscripts Healthcare Solutions
By Patricia Garner

Updated
Blue Harbour and Allscripts Healthcare Solutions
Blue Harbour raised its stakes in Allscripts Healthcare Solutions (MDRX) in 4Q14. The company accounts for 5.91% of the fund's portfolio in 4Q14.
Another healthcare company in Blue Harbour's fourth quarter portfolio is WebMD. Other competitors in the healthcare space include Cerner (CERN) and athenahealth (ATHN).
The iShares S&P 500 Growth ETF (IVW) has 0.23% exposure to Cerner. Investors can gain diversified exposure to Cerner by considering ETFs like the iShares Russell Mid-Cap Growth ETF (IWP). Combined, Cerner and athenahealth account for 0.76% of IWP's portfolio.
Article continues below advertisement
4Q14 revenue declined while net income rose
Allscripts reported a 3% YoY (year-over-year) decline in its 4Q14 revenue. Recurring revenue, including SaaS (Software-as-a-Service) revenue, increased $8 million YoY. Non-recurring revenue, consisting of systems' sales and professional services revenue, declined $18 million YoY.
Non-GAAP (generally accepted accounting principles) net income in 4Q14 totaled $17 million—compared to $14 million in 4Q13.
Booking declined in the fourth quarter
Bookings in 4Q14 declined by 11% to $244 million from $274 million in 4Q13. In the earnings release, management stated that "Fourth quarter 2014 bookings reflect double-digit growth in ambulatory solutions, managed IT services, and international sales compared with the fourth quarter of 2013. Partially offsetting this growth was a decline in client demand for patient portal solutions, a requirement for meeting Meaningful Use 2 (MU2). This demand positively impacted bookings results during the second half of 2013 as well as the first half of 2014."
Article continues below advertisement
Guidance range for 2015
For 2015, the company expects revenue to be $1.43–$1.46 billion. It expects non-GAAP EPS (earnings per share) to be $0.42–$0.50 per diluted share.
Overview of Allscripts Healthcare Solutions
Allscripts provides clinical, financial, and population health management solutions to physicians, health systems, hospitals, and post-acute organizations. Its solutions include integrated EHR (electronic health record) and practice management functionality as well as revenue cycle management services, clearinghouse services, and stand-alone electronic prescribing, or ePrescribing. It also provides a variety of solutions for home care, hospice, skilled nursing, and other post-acute organizations.
The company earns revenue from sales of its proprietary software and related hardware, professional services, and IT outsourcing services. It has three reportable segments—Clinical and Financial Solutions, Population Health, and Managed Services.
According to a comprehensive study conducted by research company Black Book Rankings, top-ranked EHRs for 2014 include Allscripts, Cerner (CERN), Epic Systems, GE Healthcare, HCS EMR, and Healthcare Management Systems—among others.