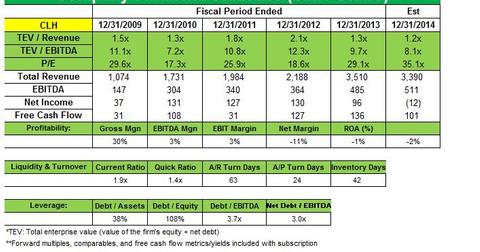 Blue Harbour Starts New Position in Clean Harbors
By Patricia Garner

Apr. 20 2015, Updated 4:09 p.m. ET
Blue Harbour and Clean Harbors
Blue Harbour started a new position in Clean Harbors (CLH) in 4Q14. The fund bought 1,434,552 shares worth $68 million. According to the latest 13F filings for 4Q14, it accounts for 2.21% of the hedge fund's total portfolio.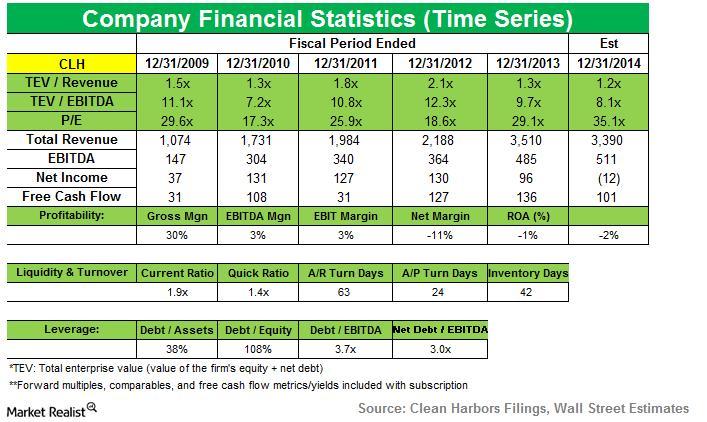 Article continues below advertisement
Clean Harbors announces spin-off of Oil and Gas Field Services
Clean Harbors (CLH) recently announced that it plans to carve out its Oil and Gas Field Services segment as a stand-alone public entity. The company also intends to include its Lodging Services drill camps business from its Lodging Services segment as part of the new entity. Other exploration and production waste treatment solutions providers include Waste Management (WM), Progressive Waste Solutions (BIN), and Republic Services (RSG).
Clean Harbors' peer Republic Services (RSG) recently acquired Tervita, LLC, a subsidiary of Tervita Corporation. A Clean Harbors press release stated, "Tervita is a leading pure-play environmental waste solutions provider serving oil and natural gas producers in the United States."
Republic Services makes up 0.52% of the Industrial Select Sector SPDR Fund (XLI).
Outlook for 2015
For 2015, Clean Harbors expects revenues in the range of $3.40 billion to $3.42 billion and adjusted EBITDA (or earnings before interest, tax, depreciation, and amortization) in the range of $510 million to $520 million.
Article continues below advertisement
Clean Harbors completes its acquisition of Thermo Fluids Inc. from Nuverra
On April 14, 2015, Clean Harbors completed its planned acquisition of Thermo Fluids Inc. (or TFI) from Nuverra Environmental Solutions, a leading provider of full-cycle environmental solutions to the energy end market.
Alan S. McKim, Clean Harbors' chairman and chief executive officer, said in an April 14, 2015, press release, "The acquisition of TFI aligns with our strategy to expand our environmental services customer base and drive incremental volumes into our hazardous waste disposal facilities."
He further stated, "TFI will add approximately 50 million gallons of waste oil to Safety-Kleen's recycling and re-refining business. We expect to effectively leverage its highly scalable platform of collection facilities, storage capabilities, rail assets and transportation fleet with our existing re-refining infrastructure. The net result will be much more efficient collection and movement of waste oil throughout Safety-Kleen's entire network."
What is Clean Harbors?
Founded in 1980 and based in Massachusetts, Clean Harbors is a provider of environmental, energy, and industrial services. The company offers a broad range of services such as end-to-end hazardous waste management, emergency spill response, industrial cleaning and maintenance, and recycling services.
Through its Safety-Kleen subsidiary, Clean Harbors is a recycler and re-refiner of used oil. The company is also a leading provider of parts washers and environmental services to commercial, industrial, and automotive customers.
Clean Harbors manages its operations in the following six reportable segments:
Technical Services
Industrial and Field Services
Oil Re-refining and Recycling
SK Environmental Services
Lodging Services
Oil and Gas Field Services
In the next part of this series, we'll look at Blue Harbour's new position in Alliance Data Systems (ADS).