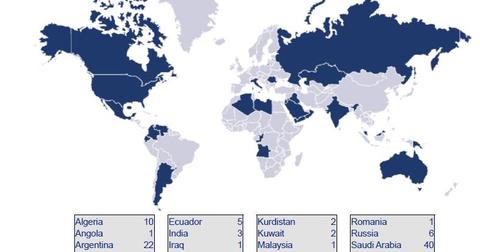 Blue Harbour Eliminates Its Position in Nabors Industries
By Patricia Garner

Apr. 17 2015, Published 11:07 a.m. ET
Blue Harbour and Nabors Industries
Blue Harbour exited its position in Nabors Industries (NBR). NBR represented 2.15% of the hedge fund's portfolio in 3Q14. According to the latest 13F filings for 4Q14, the fund sold 2,404,229 shares worth $54 million. NBR makes up 0.27% of the iShares Core S&P Mid-Cap ETF (IJH).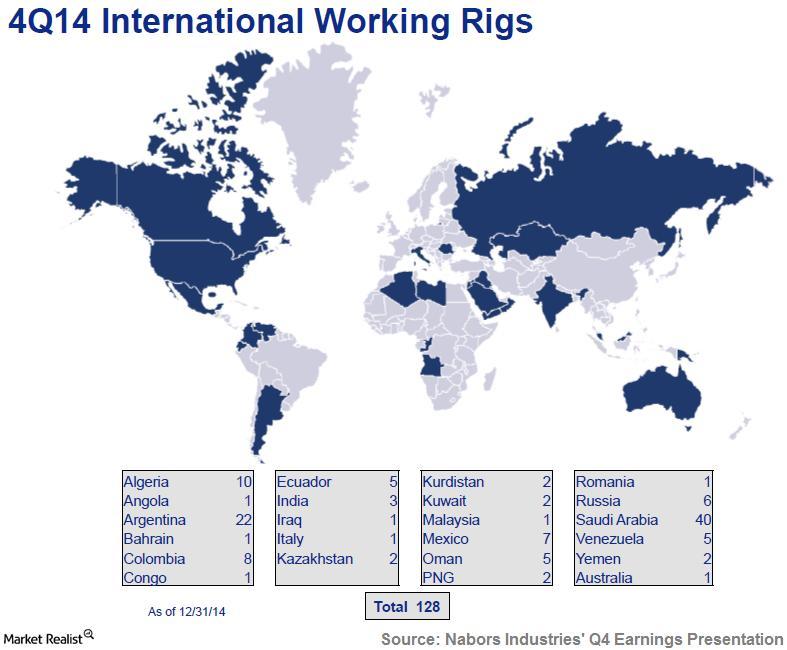 Article continues below advertisement
Nabors Industries' Q4 revenue and income dipped
Nabors Industries' net revenue in 4Q14 was $1.78 billion as compared to $1.81 billion in 3Q14 and $1.61 billion in 4Q13.
For the full year 2014, Nabors Industries reported a loss of $669.3 million, or a loss of $2.28 per diluted share, as compared to net income of $158.3 million, or $0.51 per diluted share, in 2013. Similarly, Nabors' peer Ensco (ESV) also reported a net loss of over $2 billion. However, Diamond Offshore Drilling (DO) reported a net income of $387 million in 2014.
Nabors' Drilling & Rig Services segment's operating income was $189.6 million compared to $218.3 million in Q3. Rig Services' operating income declined sequentially by 58% to $8.8 million due to declines at both Canrig and Ryan.
Nabors' Completion & Production Services segment posted operating income of $16.7 million. In its earnings release, the company noted, "Seasonal declines, competitive pricing, and multiple large customer spending reductions led to sequential declines in both businesses."
Outlook for 2015
Nabors is bullish about its growth in its International segment. However, the impact of geopolitical disruptions on its business is also a worrying factor for the company. In the company's Q4 earnings release, management noted, "The Company expects further improvement in International and Alaska drilling operations, more than offset by sharp decreases in the U.S. Lower 48 operations and smaller, but significant, decreases in the U.S. Offshore, Canada and Rig Services operations."
Article continues below advertisement
Nabors' combination transaction with C&J
Nabors completed its combination transaction, which was announced in June 2014, with C&J Energy Services last month. Under this transaction, Nabors' completion and production services business in the US and Canada merged with C&J. The resulting new company is now called C&J Energy Services (CJES) and is one of the largest completion and production services providers in North America.
Nabors Industries in brief
The Nabors companies own and operate approximately 466 land drilling rigs throughout the world and approximately 543 land workover and well servicing rigs in North America. Nabors' actively marketed offshore fleet consists of seven jackups and 36 platform rigs in the United States and multiple international markets.
In addition, Nabors is one of the largest providers of hydraulic fracturing, cementing, nitrogen, and acid pressure pumping services with approximately 800,000 hydraulic horsepower currently in service. Nabors also manufactures top drives and drilling instrumentation systems. Nabors participates in most of the significant oil and gas markets in the world.
The next article in the series will discuss the fund's exit from CommVault Systems.