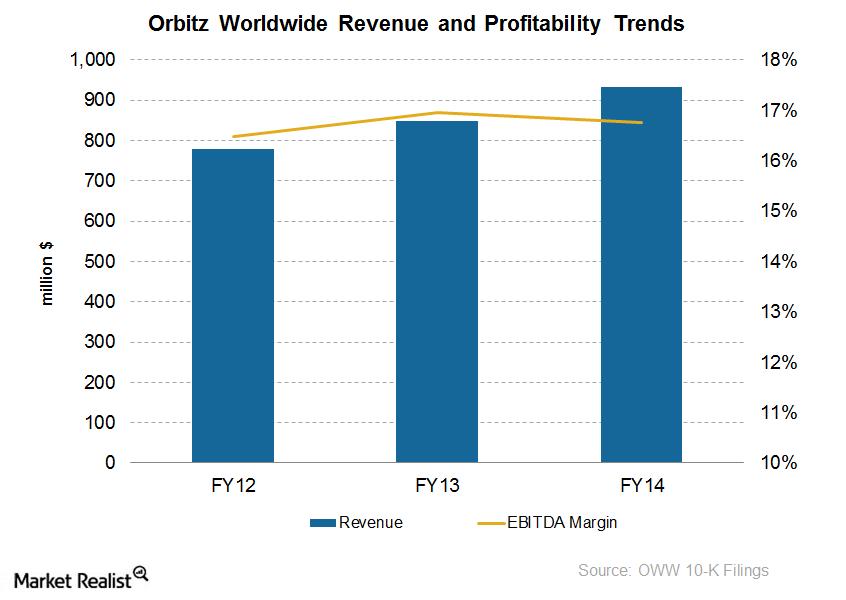 A Bird's-Eye View of Orbitz Worldwide's Full Year Performance
Orbitz posts double-digit growth
In fiscal 2014, Orbitz Worldwide Inc. (OWW) posted double-digit revenue growth on the back of strong hotel bookings. The company experienced a 10% year-over-year growth in its total revenues to $932 million. Orbitz derives its revenues from four primary sources: hotel 38%, air 28%, vacation package 16%, and advertising and media 7%.
Bookings for all these sources increased during the year and contributed to revenue growth. The majority of the growth came from higher revenues from hotel bookings, which increased 19% over the prior year period. This was influenced to a certain degree by the acquisition of Travelocity Partner Network (TPN) in the first quarter of 2014.
From a geographic standpoint, revenues from the United States were 74%, an increase of 12% over the prior year, to $691 million. International revenues at 26% were up 5% year-over-year, including the effect of foreign currency movements.
Article continues below advertisement
Operating earnings show improvement
Orbitz's acquisition of TPN resulted in higher cost of operations and marketing spend in dollar value. But the 8% year-over-year growth in operating expenses was less than proportional relative to the revenue growth. As a result, reported operating profit margin increased by ~150 bps (basis points) to 8.8% in fiscal 2014.
In fiscal 2013, the company recorded a tax benefit of $165 million due to the release of deferred tax asset valuation allowance. In fiscal 2014, Orbitz booked an income tax provision of $27 million. This resulted in narrower net profit of $17 million realized in fiscal 2014 compared to $165 million in the prior year. On a diluted per share basis, earnings dropped to $0.15 from $1.46 in fiscal 2013.
In comparison, Expedia's (EXPE) diluted earnings per share increased to $2.99 from $3.09 in the previous year. Priceline Group (PCLN) posted a 26% year-over-year growth in diluted earnings per share.
OWW is a component of the SPDR S&P Retail ETF (XRT) and the iShares Russell 2000 Value ETF (IWN), making up 1.32% and 0.03% of the portfolios, respectively.
In the next part, we'll take a detailed look at Orbitz's cash flow generation.