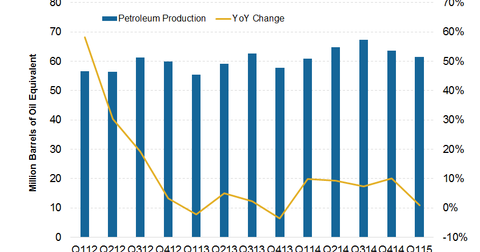 BHP Billiton Delivers: Petroleum Production Up 6%
By Anuradha Garg

Updated
BHP petroleum production
BHP Billiton (BHP) petroleum production for the nine months ended March 2015 increased by 6% to a record 192.5 MMboe (million barrels of oil equivalent).
Crude oil, condensate, and natural gas liquids production increased by 21% to 93.4 MMboe during the nine months.
Onshore US liquids volume increased by 76% for the nine-month period, up to 40.2 MMboe. This strong performance was the result of a doubling of liquids production from the Black Hawk Formation and the Permian Basin.
In BHP's conventional oil business, strong performances at its Atlantis and Pyrenees projects were offset by natural field declines and the impact of industrial action at Bass Strait.
Article continues below advertisement
US onshore development update
Onshore US drilling and development expenditure totaled $3 billion for the nine months ended March 2015. BHP expects the expenditure to total ~$3.4 billion in fiscal 2015.
The company's rig count decreased by 9 to 17 in the March quarter. BHP had taken this decision of rig count reduction during its half-yearly results ending December 2014. This was in response to the lower crude oil prices.
Production guidance maintained
BHP maintains that the reduction in drilling activity won't impact its fiscal 2015 production guidance, which remains at 255 MMboe. The company says that it's confident shale gas liquids volume will increase by over 50% during the period.
Crude oil prices have declined rapidly in recent months to hit multi-year lows. Recently, they've recovered somewhat. But still, prevailing prices are negatively affecting BHP's margins in this division. Nevertheless, the company's focus on core profitable assets and liquids could reduce costs and support margins to an extent.
BHP peers in the energy sector, including Exxon Mobil (XOM), Chevron (CVX), and ConocoPhillips (COP), are also negatively impacted by the sharp drop in crude oil prices. All of these companies are part of the iShares Global Energy ETF (IXC). Exxon Mobil and Chevron respectively make up 13.7% and 7.8% of IXC's holdings.