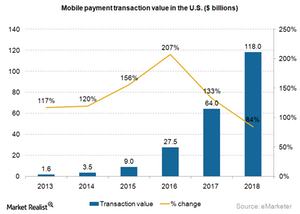 Best Buy Will Support Apple Pay in 2H15
Apple Pay comes to Best Buy in the second half of 2015
During the conference call to announce its fiscal 2Q15 earnings, Apple's (AAPL) management noted that Best Buy (BBY) will start supporting Apple Pay service at its retail outlets across the US. Consumers can use Apple Pay at Best Buy stores starting in the second half of 2015, after Best Buy's exclusivity contract agreement with MCX expires.
MCX is a group of about 45 retailers that launched a mobile payment service called CurrentC. In addition to Best Buy, it includes other large retailers such as Walmart (WMT) and Rite Aid (RAD). MCX previously promised to not support other payment services such as Apple Pay, allowing it to avoid paying credit card fees to companies such as Visa (V) with every transaction.
Article continues below advertisement
In addition to merchants, more than 50 major US hospitals will also start accepting Apple Pay for bill payments and copays. These hospitals include California's Stanford Health Care and Colorado's Aspen Valley Hospital. During the earnings call, Apple also noted that Discover Financial's (DFS) cardholders can also start accessing the Apple Pay service beginning this fall.
Apple expands the reach of Apple Pay
These developments occurred after Apple has started pushing international expansion for Apple Pay. Apple is reportedly in talks with major banks in Canada, and it partnered with Union Pay in China (MCHI) last year to broaden the reach of Apple Pay.
These are good signs for Apple, as it is looking to leverage the mobile payment market's potential for rapid growth. According to a report from eMarketer and as the chart above shows, mobile payment transactions in the US have more than doubled in just a year—from $1.6 billion in 2013 to $3.5 billion in 2014. The report expects that this market will continue to grow at a healthy rate.