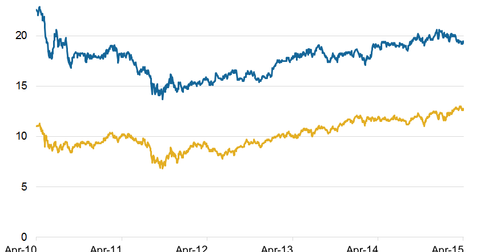 Berkshire Hathaway Outperforms Market, Sees Premium Valuation
By Robert Karr

Apr. 10 2015, Published 9:29 a.m. ET
Equity investment the only option
Berkshire Hathaway (BRK-B) has outperformed the S&P 500 Index (SPY) in every five-year period. The company's operations can be classified as a combination of active asset management and conglomerate management. Because it doesn't raise capital directly from the markets, or launch funds or any financial products under its parent company structure, the only way to participate in Warren Buffett's investments is by purchasing Berkshire equity.
Berkshire Hathaway competes with asset managers such as Blackstone (BX), BlackRock (BLK), Goldman Sachs (GS), and Morgan Stanley (MS).
Together these companies make up 5.93% of the Financial Select Sector SPDR Fund (XLF).
Berkshire Hathaway also competes with insurance giants including Allianz (ALV), American International Group (AIG), Metlife (MET), and other major players from the energy, industrial, and infrastructure sectors that form part of the iShares S&P 500 (IVV).
The company's long track record of outperformance, combined with a highly risk averse approach towards investments, has enabled it to command a premium over its peers and the overall market.
Article continues below advertisement
Premium widens
On a one-year forward-price-to-earnings basis, Berkshire Hathaway is trading at 19.3x. In comparison, its peers are trading at 12.7x. Berkshire has commanded a premium over the years because of its ability to redeploy excess capital from its subsidiaries toward better opportunities including better-performing subsidiaries and successful minority investment bets made by Warren Buffett.
In our opinion, the company will continue to trade at around 17x to 19x of its one-year forward earnings. But this will depend on how long Berkshire can outperform the S&P 500 Index (SPY). As the company has grown, the spreads against the index are diminishing, which could result in slower growth in the future.