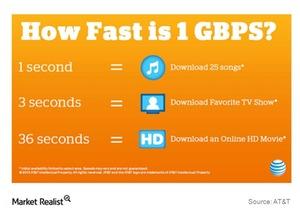 AT&T GigaPower Expands to Select Areas of a Key Market: Atlanta
By Ray Sheffer

Apr. 17 2015, Published 1:54 p.m. ET
U-verse with AT&T GigaPower now in the Atlanta metro market
On April 13, 2015, AT&T (T) extended its GigaPower Internet offering to the Atlanta metropolitan area. According to the company, the GigaPower offering will be initially available in select locations in areas including Atlanta, Sandy Springs, Decatur, and Newnan. GigaPower is the telecom giant's fast-speed Internet solution for both the consumer and business segments. It's an FTTP, or fiber-to-the-premises, product capable of a maximum download speed of 1 GBps, or gigabytes per second. However, the maximum 1 GB-per-second speed assumption is subject to conditions.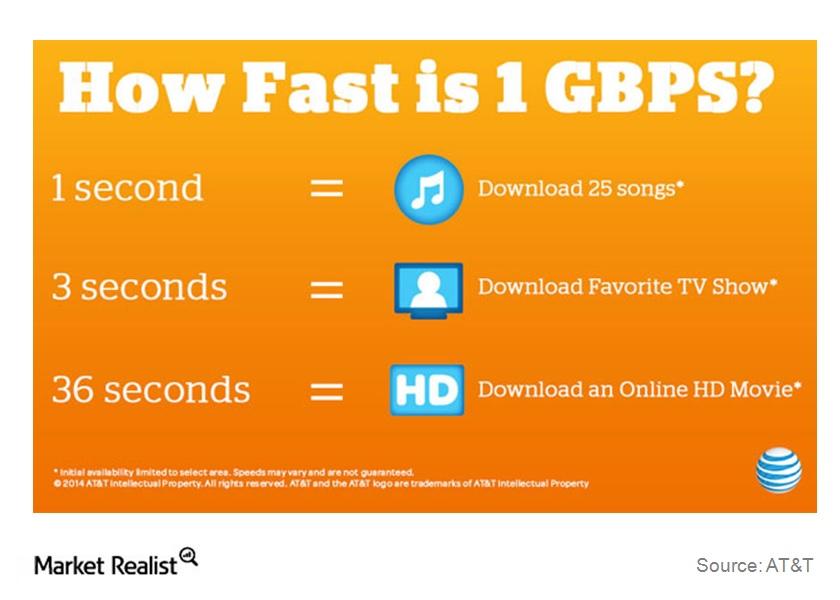 As you can see in the above figure and according to AT&T, with 1 GB per second Internet speed, users can download 25 songs in a second. Also, they can download a TV show and HD movie in 3 seconds and 36 seconds, respectively. However, these examples are subject to some conditions.
Article continues below advertisement
Promotional pricing on Internet offering
On the pricing side, according to the carrier's press release, the standalone Internet offer—U-verse High Speed Internet Premier—has the lowest monthly price option of $90 for 100 Mbps, or megabytes per second speed. Also, $120 is the lowest monthly price option for the maximum speed of 1GB per second. Plus, customers in these plans have to allow AT&T to use their browsing history. Moreover, they have to take up the service for one year.
Google Fiber's planned expansion to Atlanta
Google's (GOOG)(GOOGL) Google Fiber plans to offer its 1Gbps service to Atlanta. Based on its plans, Google Fiber will cover Avondale Estates, Brookhaven, College Park, Decatur, East Point, Hapeville, Sandy Springs, and Smyrna in the Atlanta metro market. We'll talk about Google Fiber's planned deployment in a later part of this series.
Instead of directly investing in the stock, you can take a diversified exposure to AT&T by investing in the Sector SPDR Trust SBI Interest (XLK). The ETF held ~4.2% in the carrier on March 31, 2015.
Also, you can take on more diversified exposure to AT&T by investing in the iShares Core S&P 500 ETF (IVV). The ETF held ~0.9% in the carrier on the same date.