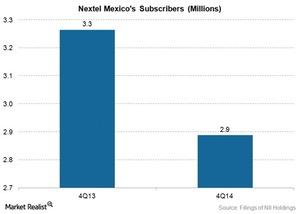 AT&T Expects Acquisition of Nextel Mexico Soon
By Ray Sheffer

Updated
AT&T's acquisitions in Mexican wireless space
AT&T (T) recently gave guidance on its anticipated completion of the acquisition of NII Holdings' Nextel Mexico, a Mexican wireless provider. AT&T also talked about its completed acquisition of Iusacell, another Mexican wireless provider, in 1Q15.
According to AT&T's chief executive officer and chairman, Randall Stephenson, in the company's 1Q15 earnings call on April 22, "We established a good foothold in the Mexican wireless market with our acquisition of Iusacell and we are on track to close our acquisition of Nextel's Mexico operations shortly."
Article continues below advertisement
AT&T–Nextel Mexico transaction
AT&T and NII Holdings signed the agreement for Nextel Mexico in January 2015. This is a $1.875 billion deal.
At the end of 2014, Nextel Mexico had ~2.9 million wireless subscribers. The Nextel Mexico segment generated annual revenue of ~$1.42 billion for NII Holdings in 2014. According to AT&T, the deal has the green light from the bankruptcy court.
AT&T-Iusacell transaction
AT&T bought Iusacell for ~$2.5 billion in 1Q15. According to AT&T, Iusacell had a wireless coverage of ~70% in Mexico as of January 16, 2015.
The deal was signed in November 2014. AT&T reported Iusacell's results under its international segment category in 1Q15. Iusacell generated revenue of ~$236 million during the quarter. It had ~6 million subscribers at the end of 1Q15.
Instead of directly investing in the stock, you may take a diversified exposure to AT&T by investing in the Technology Select Sector SPDR Fund (XLK). The ETF held ~4.2% in the carrier as of March 31, 2015.
The iShares MSCI ACWI ETF (ACWI) had holdings of ~0.4% in AT&T on March 31. Verizon (VZ) makes up ~0.5% of ACWI, and Sprint (S) makes up ~0.01%.