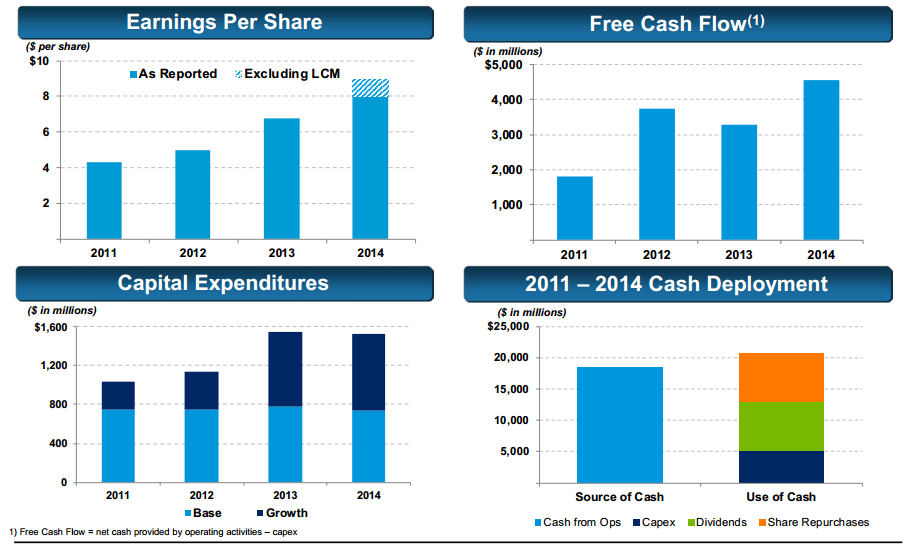 AQR Capital Commences Stake in LyondellBasell Industries
By Stuart McKenzie

Apr. 15 2015, Updated 1:38 p.m. ET
AQR Capital's holdings in LyondellBasell Industries
In 4Q14, AQR Capital initiated a position in LyondellBasell Industries (LYB) by purchasing 3,695,296 shares of the company. The stock formed 0.61% of the fund's fourth-quarter portfolio.
Article continues below advertisement
About LyondellBasell Industries
LyondellBasell Industries is a global, independent chemical company. It has large processing plants that convert liquid and gaseous hydrocarbon feedstocks—the raw materials that a processing plant converts into a desired output—into plastic resins and other chemicals.
The company's customers use its plastics and chemicals to manufacture a wide range of products, including food packaging, home furnishings, automotive components, paints, and coatings.
LyondellBasell also operates a refinery in Houston, where the company processes crude oil into gasoline, diesel, and jet fuel.
LYB is part of the Materials Select Sector SPDR Fund (XLB), wherein the company has an exposure of 5.93%. The company is also part of the iShares US Basic Materials ETF (IYM), wherein it has a representation of 5.37%.
LYB segment overview
LyondellBasell operates in five segments:
Olefins and Polyolefins (or O&P)—Americas
Olefins and Polyolefins—Europe, Asia, and International (or O&P-EAI)
Intermediates and Derivatives (or I&D)
Refining
Technology
The O&P segment benefits from a large supply of shale gas in North America, including the availability of inexpensive natural gas liquids. This segment registered earnings before interest, tax, depreciation, and amortization (or EBITDA) exceeding $4.1 billion, excluding the lower of cost or market (or LCM) adjustment. This was a 41% growth over 2012 figures.
Article continues below advertisement
LYB restructured its O&P-EAI business in Europe and implemented a strategy involving advantaged feedstock. Besides this, consistently operating the plants at close to their maximum output was instrumental in improving the company's performance significantly. This led to a 68% increase in EBITDA excluding the LCM adjustment over 2013 figures.
The I&D segment produces and markets propylene oxide and its coproducts and derivatives. The inexpensive proprietary technology for manufacturing propylene oxide has enabled this segment to generate consistently strong EBITDA of $1.5 billion for the last three years.
LYB's methanol plant in Channelview, Texas, had been out of service for a long time owing to rising natural gas costs. Due to the availability of the presently inexpensive natural gas originating from shale formation, this plant was brought back into service towards the end of 2013. Yearlong operations from this plant also contributed to the segment's performance.
The company's Houston refinery caters to feedstock flexibility and can process a wide range of crude oil that is geographically diverse. Excluding the LCM adjustment, EBITDA for the Refining segment more than doubled from its 2013 figures.
LYB's Technology segment develops and licenses chemical and polyolefin process technologies. The segment also manufactures and sells polyolefin catalysts. Over the last three years, this segment has had an average EBITDA amounting to 45% of revenue.
LYB's operational and financial accomplishments of 2014
LyondellBasell reported healthy earnings in 2014. Income from continuing operations totaled $4.2 billion. The company also generated $6 billion in cash flow from operations. LYB carried out share repurchases amounting to $5.8 billion and paid dividends of $1.4 billion. The quarterly dividend increased to $0.70 per share from $0.60 per share.
In 2014, the company successfully completed a polyethylene (or PE) capacity expansion of 220 million pounds per year and an ethylene capacity expansion of 800 million pounds per year.
LYB has a price-to-earnings (or PE) ratio of 11x, which is lower than that of its peers. Praxair (PX), PPG Industries (PPG), and Sherwin-Williams (SHW) trade at PE ratios of 21.3x, 27.6x, and 32.3x, respectively.
In the next part of this series, we will discuss AQR Capital's new position in TE Connectivity(TEL).