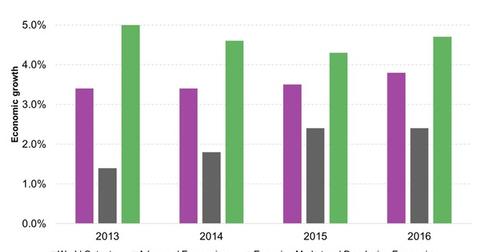 April 2015 Outlook Sees No Change in Global Economic Growth
By David Ashworth

Updated
Global growth unchanged from January 2015
The IMF (International Monetary Fund) released its "World Economic Outlook" report on April 14, 2015. In it, the multilateral agency kept its economic growth outlook for the global economy unchanged from the update released in January 2015. For more on this topic, read How slower global growth could affect your investments.
The institution still expects the world's economic growth to rise by 3.5% in 2015. In 2015, however, it sees the pace of global economic growth picking up by 3.8%, slightly higher than the 3.7% pace projected in January's update. The IMF also revised its economic growth estimate for 2013 and 2014 to 3.4%, up from 3.3% estimated in the January 2015 report.
Though economic growth projections were largely in line with the IMF's previous estimate, the divergence between growth prospects in advanced and emerging economies grew. While advance economies are expected to pick up the pace, emerging economies are expected to slow down.
The agency also expects oil prices and exchange rates to play a major role in economic growth expectations.
Article continues below advertisement
Impact on investments
The report continues to indicate robust growth for the US, but the pace is expected to slow down a bit due to lower-than-expected consumer spending in 1Q15. Harsh weather kept consumers indoors, resulting in fewer footsteps in department stores. Meanwhile, utility companies such as NextEra Energy (NEE), Dominion Resources (D), and Southern Company (SO) made hay due to higher energy demands from consumers trying to keep warm.
For investors in global ETFs such as the iShares MSCI ACWI Index Fund (ACWI), which has over 50% of its assets invested in US stocks, the report is a positive one because of its encouraging views on the US economy.
Investors in non-US global equity ETFs such as the Vanguard FTSE All-World ex-US Index Fund (VEU), which has over half of its assets in European and Japanese stocks combined, can also breathe easy, as the IMF has upwardly revised economic growth forecasts for the Eurozone and Japan.
In this series, we'll take an in-depth look at major elements of and projections in the IMF report.