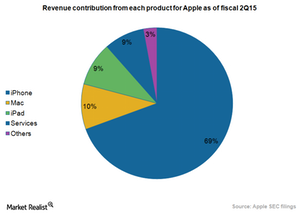 Apple's Comments on Apple Watch and App Store Businesses
By Puneet Sikka

Nov. 20 2020, Updated 4:48 p.m. ET
Demand for Apple Watch is outstripping supply
In the previous part of this series, we discussed Apple's (AAPL) non-iPhone businesses such as iPad and Mac. In this part, we will discuss Apple's other businesses such as Apple Watch and the App Store. The chart below shows the revenue contribution from each of these categories.
The company categorizes the Apple Watch in the "Others" category, while it categorizes the App Store under the "Services" segment. This shows that iPhone is the major contributor to Apple's revenues, but growing businesses such as the App Store are also becoming valuable products for Apple.
Article continues below advertisement
Apple launched the Watch only a few days ago. During the conference call to announce its fiscal 2Q15 earnings, the company's management noted that the demand for the Apple Watch currently outstrips the supply. Plus, it is seeing a tremendous response from developers who wish to develop apps for the Apple Watch—more than 3,500 apps have already been developed for the Watch.
In our article How Many Watches Should You Expect Apple to Sell?, we discussed analysts' high expectations for the Apple Watch. These expectations are heightened, considering that the wearable devices based on Google's (GOOG) (GOOGL) Android Wear operating system failed to generate any buzz. Among the vendors who deployed Android Wear were Motorola, LG, ASUS, and Sony (SNE).
App Store business showing robust growth
Apple also discussed how its App Store business is growing at a rapid clip. Revenues from the App Store were up 29% in fiscal 2Q15 from 2Q14. Apple especially singled out Europe (EFA), where the success of the App Store has helped it generate $7.5 billion for European developers since 2008.
In our article Apple's App Store Benefits from Strong iPhone 6 Launch in 1Q15, we discussed how the App Store is able to earn 70% more revenues than Google Play in 1Q15. The App Store outpaced Google Play despite the fact that Google Play offers more apps than either Apple or Amazon (AMZN).