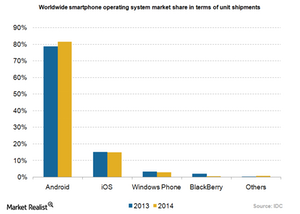 Apple Says LinX Acquisition in April Will Improve iPhone Camera
Apple acquires LinX to improve its camera technology
Apple (AAPL) has bought Israeli company LinX Computational Imaging for a valuation of $20 million, according to an April 14 report from the Wall Street Journal. LinX is primarily a camera technology company for smartphones and tablets. The company's technology includes attractive features such as the ability to capture quality images in low light and recognize faces.
The quality of a camera has become one of the most important features that consumers research before buying a smartphone. A good quality camera on a smartphone allows consumers to not have to carry a separate digital camera. Apple could make use of LinX's technology to improve the quality of the camera that goes into the iPhone and the iPad.
Article continues below advertisement
Apple lost a slight share in the smartphone operating system market in 2014
By improving the quality of its iPhone camera, Apple hopes to gain market share in the smartphone operating system market. Despite the popularity that the iPhone 6 launch gained last year, Apple saw a slight loss in market share.
According to a report from IDC, Google's (GOOG) (GOOGL) Android-based smartphones now comprise 81.5% of worldwide smartphone unit sales. Apple's iOS share declined slightly from 15.1% in 4Q13 to 14.8% in 4Q14. Microsoft's (MSFT) Windows Phone and BlackBerry (BBRY) operating systems continue to lose market share, as the chart above shows.
If you're bullish about Apple, you could invest in the iShares US Technology ETF (IYW). IYW invests about 21% of its holdings in Apple.