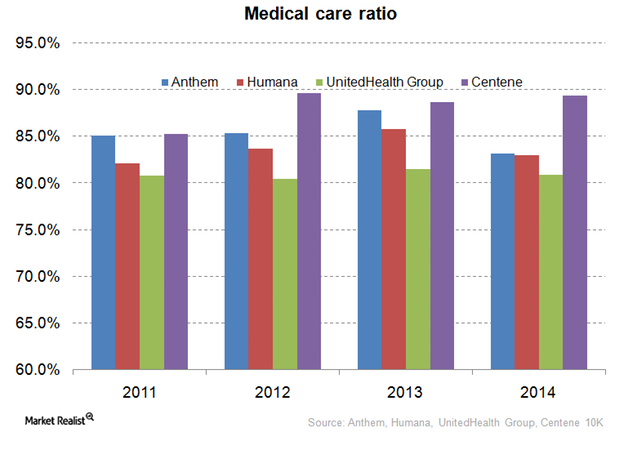 Anthem's Medical Care Ratio Improves, Boosts Profit Margin
By Margaret Patrick

Apr. 8 2015, Updated 12:05 p.m. ET
Medical care ratio
The medical care ratio of health insurance companies (IYH) is the ratio of total money spent on healthcare claims to premiums earned, adjusted for tax and regulatory expenses. A smaller medical loss ratio indicates a higher profit margin.
The above graph shows that Anthem's (ANTM) medical care ratio is lower than that of Centene (CNC) but higher than those of UnitedHealth Group (UNH) and Humana (HUM). To learn more about medical care ratios, read Why the Affordable Care Act hurts the managed care industry
Article continues below advertisement
Commercial medical care ratio
Effective 2014, the ACA (Affordable Care Act) imposes an annual health insurance fee on private health insurance companies. In 2014, the federal government collected about $8 billion in health insurance fees from all health insurers in the US and is expected to collect $11.3 billion in 2015. Anthem (ANTM) faces a liability of $893.3 million resulting from this fee.
Revenues earned from self-insured enrollments are exempt from this fee. Health insurance companies pass the fee on to their fully insured customers in the form of increased premiums, and in this way, control the outflow of cash. To learn more about self-insured and fully insured enrollments, please read Shift to self-insurance plans affects health insurance stocks.
Anthem's medical care ratio declined from 87.8% in 2013 to 83.1% in 2014, as a result of its favorable enrollment mix. About 78% of Anthem's enrollments are either employer-sponsored or individually insured members. Approximately 60% of Anthem's commercial enrollments are self-insured and are exempt from the health insurance fee. The remainder bear the burden of the fee with higher premiums.
Government-sponsored enrollments
Medicare and Medicaid enrollees can't absorb this fee in their premiums. The CMS (Centers for Medicare and Medicaid Services) determines the premium levels for these programs through a prospective payment system that doesn't include reimbursement for the health insurance fee.
Also, effective 2014, the ACA requires health insurance companies to maintain a medical care ratio of at least 85% for its MA (Medicare Advantage) enrollees. This further restricts margins earned from Medicare beneficiaries.