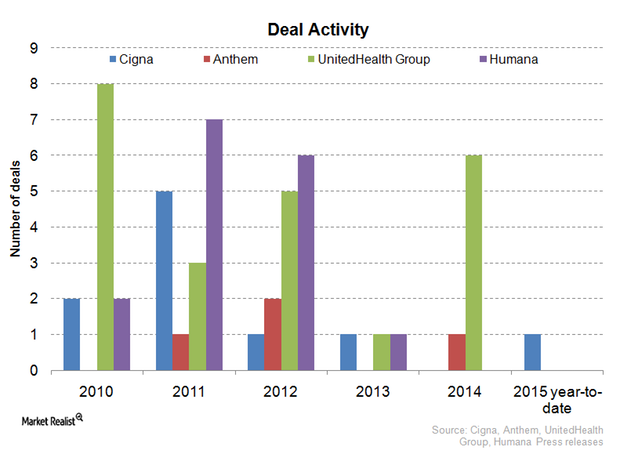 Anthem: Mergers and Acquisitions Target Medicaid, Medicare
By Margaret Patrick

Apr. 9 2015, Updated 10:06 a.m. ET
Mergers and acquisitions strategy
Because Anthem's (ANTM) business is focused on the slow-growing commercial segment, its mergers and acquisitions, or M&A, strategy mainly targets the company's government-sponsored business.
The graph above shows Anthem's total M&A deal count and those of its major competitors in the private health insurance industry (IYH)—UnitedHealth Group (UNH), Humana (HUM), and Cigna (CI)—from 2010 to 2015, year-to-date.
Compared to its peers, Anthem appears to be less active in the M&A market. Its prominent acquisitions involve CareMore, Amerigroup, and Simply Healthcare Holdings.
Article continues below advertisement
CareMore
In 2011, Anthem acquired CareMore, a Medicare healthcare company that provides services to about 54,000 elderly people in California, Arizona, and Nevada. The acquisition strengthened Anthems' already dominant position in these states. As well as adding members, CareMore introduced Anthem to innovative patient-centric models of care delivery for Medicare members.
Amerigroup
In 2012, Anthem acquired Amerigroup, a leading managed care organization focused on providing insurance services to the low-income population in the US, for $4.9 billion in cash. The strategic acquisition enabled Anthem to increase its Medicaid footprint inorganically. It also added capabilities that better positioned the company to take advantage of the Medicaid expansion implemented by the ACA (Affordable Care Act).
As well, the acquisition strengthened Anthem's position in certain key markets:
dual eligible
seniors
persons with disabilities
long-term services
Currently, Anthem provides health insurance services through its Amerigroup subsidiaries in Florida, Georgia, Kansas, Louisiana, Maryland, Nevada, New Jersey, New Mexico, New York, Tennessee, Texas, and Washington.
Simply Healthcare
In February 2015, Anthem completed the acquisition of Simply Healthcare Holdings, a leading managed care company for Medicare and Medicaid beneficiaries in Florida. With this acquisition, Anthem now serves over half a million people in that state.