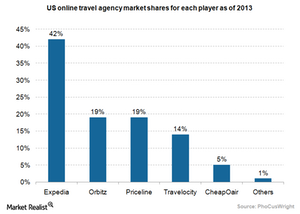 Amazon Enters the Online Travel Market with Amazon Destinations
Amazon to enter online travel market 
Rumours that Amazon (AMZN) would enter the online travel market have abounded for a while now. Finally, Amazon has launched its new travel and hotel service, which it calls Amazon Destinations. According to an April 21 report from The Wall Street Journal, Amazon Destination will help users book hotel rooms online.
On the surface, entering the online travel market doesn't look like a wise thing for Amazon to do because it means entering yet another new market. It has already entered, or is trying to enter, the smartphone (Fire) market, the video streaming player (Fire TV) space, the video and music streaming market, with its Prime instant Video business, and online advertising, all with little success.
Article continues below advertisement
Nevertheless, if we analyze it more deeply, we see that online travel could be a lucrative market for Amazon. The online travel market has better margins than the e-commerce market. If we compare online travel market leader Priceline's (PCLN) operating margins with those of e-commerce market leader Amazon, we find a big difference. Priceline generates 40%+ operating margins, while Amazon is struggling to break even.
Amazon operating margins continue to decline—to the point where it could lose $200 million in 1Q15. For more on this topic, read Amazon Could See Yet Another Operating Loss in 1Q15.
Online travel market is consolidating
The online travel market is consolidating. A couple of months ago, Expedia (EXPE) announced its intention to buy Orbitz Worldwide (OWW) for a consideration of $1.8 billion. The previous month, Expedia acquired Travelocity, and it acquired German metasearcher Trivago a couple of years ago. Even Priceline (PCLN) made big news last year when it agreed to acquire OpenTable for $2.6 billion.
By acquiring Orbitz, Expedia will now dominate the US online travel agency market. According to a report from travel research firm Phocuswright, and as the chart above shows, Expedia's share will rise to 75% with its acquisitions of Orbitz and Travelocity. Priceline and CheapOair will round off the second and third positions in this market.
If you're bullish about Amazon, you could invest in the PowerShares QQQ Trust, Series 1 ETF (QQQ), which invests about 3.5% of its holdings in Amazon.