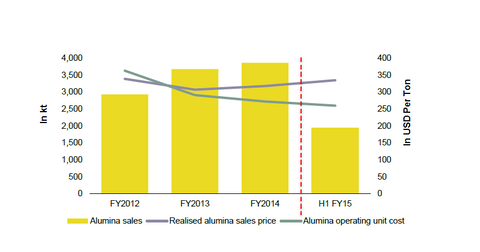 Aluminum: A Key Commodity for South32 after the Demerger
By Anuradha Garg

Apr. 17 2015, Updated 1:39 a.m. ET
Aluminum is a key commodity for South32
The unit costs at South32's aluminum and alumina operations have been declining in US dollar terms. They have been benefiting from the weaker Australian dollar. The Australian dollar hit a low of 0.76 against the US dollar—mainly due to China slowdown worries on April 14.
For example, at Worsley Alumina the costs were $260 per ton for the first half of fiscal 2015—a decline of ~4% from fiscal 2014 when costs were $272 per ton. The aluminum and alumina operations are already low-cost operations. However, South32 will try to improve its position more. Aluminum will be a key commodity for South32 after the demerger from BHP Billiton (BHP). It will contribute to the largest chunk of its revenue at close to 39%.
Article continues below advertisement
Worsley Alumina
Worsley Alumina is an integrated bauxite mining and alumina refining operation that's 86% owned by South32. It's located in Western Australia. On June 30, 2014, South32 had resources of 1,140 million tons and reserves of 295 million tons. It has a resource life of 63 years and a reserve life of 17 years.
South Africa Aluminum
South Africa Aluminum comprises Hillside Aluminum and operates an aluminum smelter in Richards Bay, South Africa. It's the largest aluminum smelter in the Southern Hemisphere. It has an annual production capacity of 723 kilotons per year. Based on 2013 production, the Hillside smelter falls in the first and second cost quartiles.
Article continues below advertisement
Mozal Aluminum
Mozal Aluminum is an aluminum smelter located 17 kilometers from Maputo, Mozambique. South32 will own 47.1% of this operation. It includes a dedicated berth and other port terminal facilities at Matola—Maputo's port. Mozal produces standard aluminum ingots. Its fiscal 2014 production was 266 kilotons. Most of Mozal's aluminum is exported to Europe through Matola. Mozal's costs are higher than the Hillside smelter.
Brazil Aluminum
Brazil Aluminum comprises South32's interest in the MRN mine at 14.8%, Alumar Consortium at 36%, and Aluminum Smelter at 40%. The MRN mine is located in the Trombetas region in the state of Para, Brazil. Alumar is located in Sao Luis in the state of Maranhao, Brazil. Alcoa (AA) and its affiliates own 18.2%, Vale SA (VALE) owns 40%, and Rio Tinto's (RIO) Rio Tinto Alcan owns 12%. Brazil Aluminum has a resource life of 29 years and a reserve life of six years.
All of Alumar's aluminum production is for domestic customers. Brazil Aluminum's Alumar refinery is in the second cost quartile. The Alumar smelter is in the third cost quartile.
Aluminum demand growth has been strong. New supply is expected to continue curtailing high-cost capacity. This should benefit South32's aluminum segment going forward.
The SPDR S&P Metals and Mining ETF (XME) invests in aluminum stocks. Alcoa forms 3.6% of its holdings.