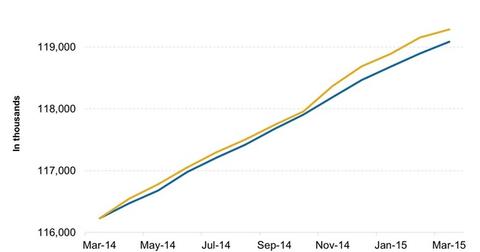 ADP's Report: Private Job Additions Fall below 200,000 in March 2015
By David Ashworth

Updated
ADP's monthly report
ADP's monthly report—the NER (National Employment Report)—showed that the private sector only added 189,000 jobs in March 2015. These additions were the lowest since January 2014. It was also the first time since January 2014 that additions were lower than 200,000. In a small positive, private job additions for February 2015 were upwardly revised to show an increase of 214,000—from 212,000 reported earlier.
The report is produced by ADP in association with Moody's Analytics. ADP's actual payroll data is used to prepare the report. It assesses the seasonally-adjusted change in total non-farm private employment. ADP releases this report on a monthly basis.
Article continues below advertisement
Mark Zandi, chief economist of Moody's Analytics, said that "Job growth took a step back in March. The fallout from the collapse in oil prices and surge in value of the dollar is hitting the job market." However, he added that "Despite the slowdown, underlying job growth remains strong enough to reduce labor market slack."
Key takeaways
The NER showed that, according to company size, small-sized businesses with one to 49 employees added 108,000 jobs in March. This was the most jobs among businesses. There was an upwardly revised 103,000 additions by small businesses in February. Mid-sized businesses with 50-499 employees followed by adding 62,000 jobs. In the previous month, these businesses added a downwardly revised 57,000 jobs. Large businesses with more than 500 employees only added 19,000 jobs. This was down sharply from the 53,000 jobs added in February.
Service-providing companies were responsible for 97.3% of the total jobs added for March. The other 5,000 jobs came from goods-producing companies. They added 22,000 jobs in the previous month.
According to ADP's NER industry classification, professional and business services added 40,000 jobs in March. It was followed by trade, transportation, and utilities. They added 25,000 jobs in March. The manufacturing industry actually saw jobs fall by 1,000 in March.
Article continues below advertisement
Why is it important?
ADP's NER gives an early taste of what the non-farm payrolls may look like. However, keep in mind that the non-farm payroll report has a wider base. ADP's NER only gives you an idea about the private sector's hiring activities.
An increase in hiring activity shows underlying strength in the economy. Companies will only start hiring if they see an upswing in the goods they produce or the services they offer.
Like non-farm payrolls, this report also affects industrials-related ETFs like the SPDR Industrial Select Sector Fund (XLI) and the First Trust Industrials AlphaDEX Fund (FXR), materials and home-related ETFs like the SPDR Materials Select Sector Fund (XLB) and the iShares Dow Jones US Home Construction Index Fund (ITB), and large-cap ETFs (SPY) (DIA) (IVV). XLB has DuPont (DD), Monsanto (MON), and Dow Chemical (DOW) as its top three holdings. They account for ~30% of the portfolio.
In the next part of this series, we'll see consumers' earnings and spending in February 2015.