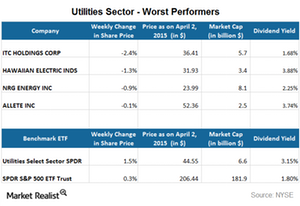 April Begins with Only 5 Losers in the Power Utilities Sector
By Mike Sonnenberg

Updated
Utilities ETF gains 1.5%
After dropping 2.4% the previous week, the Select Sector Utilities Select Sector SPDR Fund (XLU) gained 1.5% during the week ending April 2, 2015. Yields across maturities dropped during the week due to the geopolitical scenario and weak economic indicators.
During the same period, the broad-based SPDR S&P 500 ETF Trust (SPY) gained 0.3%. SPY is a key ETF tracking the S&P 500 benchmark index. The iShares Core S&P 500 ETF (IVV) also tracks the S&P 500.
Article continues below advertisement
ITC Holdings
While most power utilities (XLU) gained during the last week, five saw their stock prices drop. ITC Holdings (ITC) lost 2.4% to finish at $36.41 with a market capitalization of $5.7 billion. ITC Holdings is the largest independent electricity transmission company, and it operates in seven US states.
Other losers
Hawaiian Electric Industries (HE) lost 1.3% to close the week at $31.93 with a market capitalization of $3.4 billion. HE is the largest supplier of electricity in the state of Hawaii, with a 95% market share.
NRG Energy (NRG), which was among the top losers last week, continued to be pressured. It lost 0.9%, finishing at $23.99 with a market capitalization of $8.1 billion.
ALLETE (ALE), a Minnesota-based power utility that provides power to the upper Midwest was down marginally, finishing at $52.36 with a market capitalization of $2.5 billion.
Public Services Enterprises Group (PEG) lost a cent to end the week at $41.33.