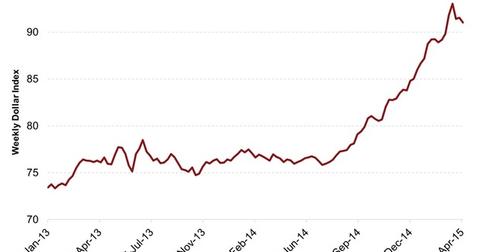 The 2nd Factor Shaping the Current Global Economy
By David Ashworth

Apr. 25 2015, Updated 3:06 a.m. ET
Exchange rates
In the previous article, we discussed the impact of one of two factors that Olivier Blanchard, the economic counsellor to the IMF (International Monetary Fund), had highlighted in the April 2015 edition of the "World Economic Outlook." In this part of the series, we'll look at the second factor, namely, exchange rates.
Blanchard called exchange rate movements "unusually large." You can see how large in the graph below. The dollar has appreciated significantly against its major peers including the euro and the Japanese yen, among others. The movement has been especially pronounced since July 2014. The index, which was reading in the mid-70s in July, has risen above 90. The PowerShares DB US Dollar Bullish ETF (UUP) is up 23% from a year ago.
Currencies move in pairs. The quick appreciation of the dollar was made possible by the weakness in the euro and the yen. The CurrencyShares Euro ETF (FXE) has fallen 24% in just one year. One of the primary reasons for this movement is diverging monetary policies.
Article continues below advertisement
Divergent monetary policies
While the US is closing in on a rate hike, indicating a tightening monetary policy, other nations and regions such as Japan and the Eurozone are going easy with their monetary policies. Blanchard expressed his surprise not so much at this large movement, but "how long it took for these exchange rate movements to occur."
A depreciation in the euro and the yen is beneficial for their economies given their weakened state. However, in the US, especially for exporters like Microsoft (MSFT), Oracle (ORCL), and Proctor & Gamble (PG), a strong greenback means lower overseas income. This is because a strong domestic currency makes goods more expensive in the international market.
Lower export growth will drag on US economic output as well. This is one of the reasons that the IMF has reduced its forecast for the nation's economic growth.
In the next article, we'll look at the combined effect of these forces and factors on the global economy.