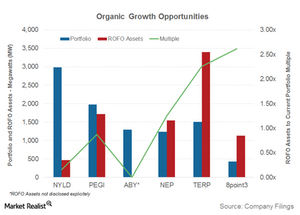 Yieldcos With Organic Growth Prospects – Part 2
By Mike Sonnenberg

Apr. 1 2015, Updated 11:05 a.m. ET
Abengoa Yield (ABY)
ABY had operational assets of 1,291 MW as of December 31, 2014. Although the company has no contracted ROFO pipeline, it does expect a dropdown of various renewable and conventional assets, as well as transmission and water desalination facilities, from its sponsor, Abengoa SA.
Article continues below advertisement
TerraForm Power (TERP)
TerraForm Power operated 1,507 MW of solar and wind capacity as of February 20, 2015. TerraForm Power has an agreement with its sponsor, SunEdison (SUNE), mandating SUNE to offer additional operational projects to TERP.
As of February 2015, capacity under the agreement totaled 3,400 MW, including 1,800 MW of solar capacity and 1,600 MW of wind capacity. SunEdison has a development pipeline of over 5,100 MW. TERP would benefit from that pipeline.
8point3 Energy Partners
SunPower (SPWR) and First Solar's (FSLR) joint yieldco, 8point3 Energy Partners, has a ROFO asset pipeline of 1,131 MW as well as an initial portfolio of 432 MW. Like its initial portfolio, the ROFO asset pipeline is a mix of utility scale and rooftop solar.
FSLR and SPWR are key components of the Guggenheim Solar ETF (TAN), making up 8.85% and 5.62% of the ETF, respectively.
Bottom line
On the basis of agreed ROFO assets, TerraForm Power and 8Point3 Energy offer the best growth prospects, with ROFO assets 2.3 times and 2.6 times the current portfolios, respectively. Yieldcos often consider asset drawdowns from sponsors organic growth.
While ROFO assets are a predictable and vital source of growth for yieldcos, they're not the only source. Yieldcos may acquire third-party projects the way TerraForm Power did. Yieldcos may also acquire sponsor's projects that aren't part of any ROFO agreement.