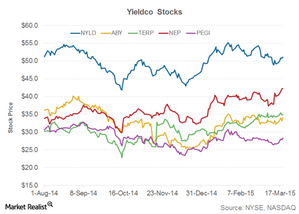 Yieldcos: Make Hay While the Sun is Shining
By Mike Sonnenberg

Apr. 1 2015, Updated 7:05 p.m. ET
Renewable energy and yieldcos
Yieldcos are attractive propositions for developers of renewable energy projects and investors alike. Renewable energy facilities typically have far lower operating costs than other types of electric power plants because the fuel is almost free. Low operating costs, coupled with stable cash flows from fixed-price contracts, give yieldcos some of the characteristics of bonds (BND). Indeed, yieldcos sit prettily between traditional equities and bonds, offering a diversification alternative.
Article continues below advertisement
What about the future?
Having said this, yieldcos don't enjoy the same status as MLPs (master limited partnerships). Unlike MLPs, yieldcos aren't exempt from corporate taxes. Instead, they rely on depreciation and tax credits to minimize tax expenses. Once projects age, the depreciation benefit diminishes, resulting in higher tax expenses. This is why yieldcos need to keep adding new projects—to minimize tax expenses and to continue growing distributions.
The long-term sustainability of yieldcos is questionable. Nevertheless, yieldcos expect to ride on the depreciation benefit for at least a decade to come. The Master Limited Partnerships Parity Act, which seeks to include renewable energy under the ambit of MLPs, has yet to be passed. If passed, the next logical move will be for yieldcos to seek the status of MLPs.
Article continues below advertisement
Limited data
Another issue with investing in renewable energy yieldcos is the limited availability of data. NRG Yield (NYLD), the oldest of the lot, is under two years old. Most of them, including TerraForm Power (TERP), NextEra Energy Partners (NEP), and Abengoa Yield (ABY), have yet to celebrate their first anniversaries. As a result, performance and distribution data are limited.
Bottom line
In spite of the odds against them, yieldcos offer some unmatched benefits like exposure to the in-vogue renewable energy sector. At the same time, yieldcos generate relatively stable cash flows. Since depreciation benefits and growth opportunities are at play, the earlier you enter, the better. Don't forget to keep an eye on the ROFO asset pipeline that we discussed in Part 17 of this series, counterparties, and the remaining life of contracts.
Happy tax-efficient investing!